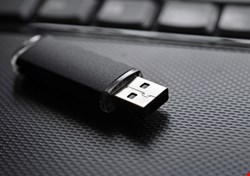 The plug-and-go malware removal tool is a 16GB USB drive that IT workers can use to fix and restore computers by simply plugging it into an infected machine. It automatically scans and removes trojans, spyware, worms and other malicious software, but it goes for $500 per year, so it is indeed firmly aimed at the enterprise camp rather than the home network.
"Techbench is made by technicians, for technicians," said Malwarebytes CEO Marcin Kleczynski in announcing the gadget. "As an IT support worker, there is nothing more frustrating than dealing with an endless line of computers infected with stubborn malware, each needing a different type of fix."
He added, "Techbench will address this problem by providing something which can simply be plugged in and automatically remove the problem. Hopefully, it will make the lives of computer technicians that little bit better."
Rather than waiting, giving commands and running various diagnostic tools, the stick (available on a wearable lanyard for those fashion-forward techs) is a "plug and leave" concept. Once plugged in, the USB stick will automatically start a background scan of the entire machine, silently restarting when needed and installing Malwarebytes Anti-Malware on the cleaned computer if required. It also automatically quarantines all malicious software on the USB stick to prevent reinfection, and uses Malwarebytes Chameleon, a product designed to neutralize modern malware's automatic countermeasures.
While a scanner on-a-stick is a nouveau concept for the market, the accessory-based security market appears to be heating up. As Infosecurity previously reported, Belkin and Kaprica are tackling Android mobile security with a handy mobile malware detection scheme that is as simple as plugging in a handset to charge. The Skorpion USB charger is designed to perform a deep scan of a connected device on a set schedule.