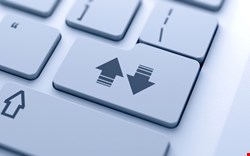 The company's Workforce Mobilization report showed that users are increasingly circumventing policies set by IT departments and using unsanctioned applications to share large files and collaborate on documents outside of the office. That in turn raises major concerns over the security of corporate documents and personal information, and highlights the challenges facing IT when it comes to enabling mobility while ensuring data governance and mitigating risk.

The results are trending in the wrong direction too: that 72% that had not received authorization from their IT department to use a consumer-based file sharing application is up from 66% in 2012. The trend has snowballed in some industries, especially in the financial and healthcare industries, where 91% and 80% of employees, respectively, access documents on the move.
The majority (69%) of mobile file-sharers also use free services to collaborate and access shared documents, which is a 3% increase over the last year. Employees working in legal and professional services (88%) and financial services (78%) report the highest usage of free services, followed by healthcare (55%), creative sectors (66%) and government (42%).
Within these organizations, those working in sales (78%) and legal (78%) departments were the most likely to use free file sharing applications.
The issue is only exacerbated by the bring-your-own-device (BYOD) trend: more than half (62%) of knowledge workers use their personal devices for work. BYOD is especially prevalent in legal (77%), sales (76%), and marketing (72%) departments. Employees in administrative roles are the least likely to use their own device for work purposes, with only 18% stating that they use their mobile device or tablet for work.

"By 2015, most very large enterprises will have to provide more structured and formalized support for employees who elect to use personal mobile devices for work – including smartphones and tablet PCs," said Brownlee Thomas, Forrester Research, in a statement. "We [have] learned that supporting more types of mobile devices and platforms will be a critical or high priority during the next 12 months for 73% of firms with 5,000-plus employees, and also for 67% of firms with 1,000 to 4,999 employees."
In the Workshare survey, larger companies, with more than 20,000 employees, had a greater grasp of data security issues around file-sharing applications. In contrast, companies with fewer than 500 employees had a much lower proportion (24%) of employees using authorized file sharing solutions.