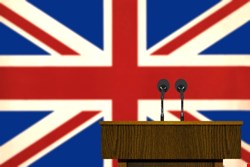 In a statement to the London Stock Exchange, publisher Trinity Mirror (which also publishes the Daily Mirror) announced that it is under investigation by the Metropolitan police for phone-hacking. And, police are investigating whether Trinity Mirror itself bears corporate responsibility for any wrongdoing.
"Trinity Mirror plc notes that its subsidiary, MGN Limited, publisher of the group's national newspapers, has been notified by the Metropolitan police that they are at a very early stage in investigating whether MGN is criminally liable for the alleged unlawful conduct by previous employees in relation to phone hacking on the Sunday Mirror," the announcement read, as reported by the Guardian.
"The group does not accept wrongdoing within its business and takes these allegations seriously. It is too soon to know how these matters will progress and further updates will be made if there are any significant developments."
The investigation is part of Operation Weeting, which the Metropolitan Police launched originally to explore wrongdoing within Rupert Murdoch's News Corp. group, after employees of The News of the World were found to have hacked into the cellphone messages of a murdered teenager in pursuit of a story. Amid a flurry of ethics-based public outrage and official investigations, Murdoch closed the long-running tabloid in July 2011 in the wake of the scandal. However, the rabbit hole may run deeper than one paper: several editors and ex-employees of Murdoch's newspaper subsidiary have been charged with phone-hacking, and are set to stand trial later in the year.
Then, last autumn it emerged that Trinity Mirror properties, including the 1-million-circulation Sunday Mirror, may have engaged in phone interceptions as well. It was slapped with lawsuits on behalf of four alleged victims: Sven-Goran Eriksson (former England football manager); Garry Flitcroft (former footballer); Shobna Gulati, (actor famous for roles in Coronation Street and Dinnerladies); and Abbie Gibson (former nanny to David and Victoria Beckham's children). A subsequent wide-sweeping inquiry saw Piers Morgan, who was editor of the Daily Mirror from 1995 to 2004, testify repeatedly that he never saw or knew of any phone hacking happening under his watch.

In March of this year, the police arrested four Mirror group journalists, reportedly all senior current or former editors, on allegations of carrying out the practice.

The general inquiry, led by Lord Justice Sir Brian Leveson, resulted in much soul-searching by the British press corps as to ethics and the boundaries of chasing a story. "The press provides an essential check on all aspects of public life," Leveson said in a statement opening the inquiry. "That is why any failure within the media affects all of us. At the heart of this Inquiry, therefore, may be one simple question: who guards the guardians?"
The hacking was undertaken with, what else, but malware. As AdaptiveMobile's founder and COO Gareth Maclachlan explained at the start of the investigations, "several victims – from ex-Prime Minister Gordon Brown to sex blogger Zoe Margolis – have spoken out publically, claiming to have been on the receiving end of email malware from journalists or publications. This malware has been built and sent with the sole intention of illegally extracting personal information from the unwilling recipient's computer or phone."

As he pointed out, "the issue now reaches far beyond the illegal accessing of voicemail inboxes, as first thought. As the case continues and more security breaches come to light, it is apparent that the mobile ecosystem has a big challenge on its hands that, if not handled correctly, could be potentially damaging."