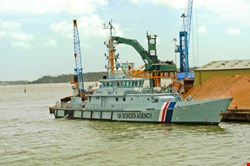 The US operates a 100 mile extension to its border zone. Within this area customs officials can seize and retain, for a 'reasonable' period, travelers' mobile devices without probable cause; that is, the Fourth Amendment doesn't apply here.
Now the Daily Telegraph has revealed a very similar practice in the UK, where "Officers use counter-terrorism laws to remove a mobile phone from any passenger they wish coming through UK air, sea and international rail ports and then scour their data." The difference between this and 'normal' police behavior in the UK is that "they do not even have to show reasonable suspicion for seizing the device and can retain the information for 'as long as is necessary.'"
Even standard police 'stop and search' powers are being questioned. Two weeks ago the Home Secretary Theresa May told Parliament, "as important as stop and search undoubtedly is, we have to be frank about widespread public concern regarding its use. Official statistics show that there are more than one million stop and search incidents recorded every year. But on average only about nine per cent of those incidents result in an arrest, and that figure prompts me to question whether stop and search is always used appropriately."
At the border British police use the Terrorism Act 2000 to do a similar thing, without the need to show reasonable suspicion. The Telegraph says that up to 60,000 travelers entering or returning to the UK are "stopped and examined." Forensic software can then download and retain all data on any seized mobile device.
Cellebrite is one company providing such forensics software. "The underlying weakness of digitally-reliant criminals is that they use their mobiles so frequently", wrote Yuval Ben-Moshe, the company's senior forensics technical director, in Policing Today last month. "Investigators can expect to find a wealth of data on mobile devices. The true advantage of tools such as the UFED Link Analysis is the fact that they allow investigators to establish connections." The problem is the tension between security and privacy. "A balance must be struck; a middle ground must be found", he says.
But there is growing concern that the middle ground has not been found. David Anderson QC is the government's independent reviewer of terrorism laws, and the Telegraph expects him to raise concerns in his annual report due this week. "Information downloaded from mobile phones seized at ports has been very useful in disrupting terrorists and bringing them to justice. But ordinary travelers need to know that their private information will not be taken without good reason, or retained by the police for any longer than is necessary," he said.