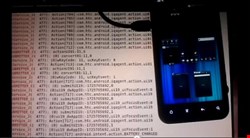 The video shows the software logging Eckhart's online search of "hello world", even though he uses the SSL version of the Google search engine, which is supposed to encrypt searches.
With much fanfare, Google announced in October that users would automatically be redirected to the company's SSL encryption search site when they log into their Google accounts. "As search becomes an increasingly customized experience, we recognize the growing importance of protecting the personalized search results we deliver", Evelyn Kao, product manager with Google, wrote in a blog post.
But Eckhart shows that Carrier IQ can log searches conducted through the encrypted Google site. Information logged by the software is then sent off to the Carrier IQ servers, he said.
Eckhart stressed that there are only cryptic indications that the software is running and nearly impossible for the smartphone user to disable it.
"The only choice we have to 'opt out' of this data collection is to root our devices because every part of the multi-headed CIQ application is embedded into low-level, locked regions of the phones. Even if you unlock your device and remove the base application with a sophisticated removal method, neutered, leftover code called from other applications will likely throw an error each time an old action is triggered", he explained on his website.
Eckhart warned that "if a bad actor discovered a vulnerability or used malware, he could potentially exploit that opportunity to become a 'CIQ operator,' leaving many users helpless against the extensive collection and misuse of their own information and no way to stop it."