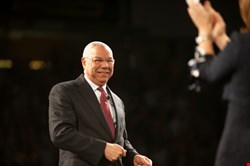 In the past, Guccifer has hacked Dorothy Bush Koch to get at George Bush, Sidney Blumenthall to get at Hilary Clinton, Colin Powell to get at a lot of people, the Rockefellers, Lisa Murkowski and former FBI and secret service agents. This time he's hacked Corina Cretu to get at Colin Powell.
Three days ago Powell emailed Cretu: "This hacker is driving everyone here crazy... The hacker gets addresses from my contact list which he got when he hacked into President Bush's account. Our security people have been chasing him for months. He may have lots of your emails, maybe not, so best to delete all between us."
We know this because it was too late. The email was lifted from Cretu's account because Guccifer was already there – and he posted a whole lot to a Google Drive file on the internet. He spread his message by hacking the Facebook account of a retired general who is a 'friend' of Powell's. "Then, in a bid to expose the material directly to Powell's Facebook followers (his page has nearly 87,000 'likes')", reported The Smoking Gun, "the hacker posted a message on Powell's wall that included a link to the Google Drive page."
By the time Powell's aides had discovered and removed the link, Guccifer had also sent copies to Cryptome – a sort of early precursor to WikiLeaks. By this stage Powell clearly realized he would not be able to contain the leaks; and when challenged by The Smoking Gun, he issued a brief statement:
"This note responds to a series of posts placed by a 'hacker' concerning my relationship with Ms Corina Cretu, a Romanian diplomat and politician...
"Over time the emails became of a very personal nature, but did not result in an affair."
The moral of this tale is clear: be careful what you commit to the internet in emails; but more particularly make sure that your email account has a very strong password that you never re-use anywhere else.