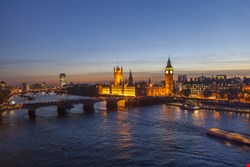 City University London is no stranger to post-graduate cybersecurity education. But as Kevin Jones, deputy dean of computer science, explains, the school's new MSc in Cyber Security differs from its current Management of Information Security and Risk MSc program.
Now taking applications for the autumn 2014 semester, the new master's in Cyber Security is "aimed at people coming right out of undergrad, to give them exposure to cybersecurity concepts", Jones relays. This is in contrast to City University's MISR program, which targets professionals already in the information security industry who are seeking to further their education. The program is open to all students who qualify, both within and outside the UK.
Jones told Infosecurity that the new master's program would consider candidates with undergraduate degrees in computer science, math, and related sciences with programing components, to provide students with hands-on experience before they enter the workforce. "It will provide the specialist knowledge you need to be a good cybersecurity professional", he added.
The degree program will comprise eight modules; six of them being core ones, with two others customizable to the student's chosen areas of interest or focus. "We expect some students to specialize in things like cybercrime", Jones said, adding that degree recipients will be on a track to "go work for security companies, but also the business consulting aspects of the information security space. This program is much more for filling the skills gap the industry faces", Jones asserted.
He also further differentiates the new master's program from the MISR that City University currently offers by explaining it's less of a hard-core tech program, and focuses more on the human problems organizations face with respect to cybersecurity. Students will learn attack and defensive techniques, but will also be tasked with creating security policy documents, as the program seeks to meld both the technical and sociological aspects of cybersecurity.
"For the master's in Cyber Security program, we are trying to ground everything in the real world", Jones concluded.