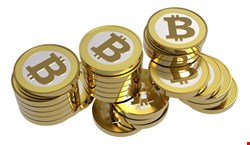 Those rumors were exacerbated by a lack of official comment, news that CEO Mark Karpeles had resigned, and a corresponding removal of the company's Twitter presence, and staff from its offices. A document claimed to be genuine but doubted by many, started to circulate. Titled 'Crisis Strategy Draft,' it states, "At this point 744,408 BTC are missing due to malleability-related theft which went unnoticed for several years. The cold storage has been wiped out due to a leak in the hot wallet. The reality is that MtGox can go bankrupt at any moment..."
The lack of any official response from MT Gox added to the rumor mill. At first, attempts to access the website simply met with a continuous 'Loading...' message. Yesterday this was replaced with a brief statement: "In light of recent news reports and the potential repercussions on MtGox's operations and the market, a decision was taken to close all transactions for the time being in order to protect the site and our users. We will be closely monitoring the situation and will react accordingly."
This simply added to the confusion since the rumors were started because of the closure, not the other way round. Earlier today, a second statement was added, purportedly from Mark Karpeles. "As there is a lot of speculation regarding MtGox and its future, I would like to use this opportunity to reassure everyone that I am still in Japan, and working very hard with the support of different parties to find a solution to our recent issues. Furthermore I would like to kindly ask that people refrain from asking questions to our staff: they have been instructed not to give any response or information." The wording here would suggest that he is still at least acting CEO, if not actually CEO.
Karpeles also emailed Reuters on Tuesday, saying, "We should have an official announcement ready soon-ish. We are currently at a turning point for the business. I can't tell much more for now as this also involves other parties."
Other bitcoin exchanges feel aggrieved. Coinbase and other firms published a joint statement on Monday. "This tragic violation of the trust of users of Mt.Gox was the result of one company's actions and does not reflect the resilience or value of bitcoin and the digital currency industry... In order to re-establish the trust squandered by the failings of Mt. Gox, responsible bitcoin exchanges are working together and are committed to the future of bitcoin and the security of all customer funds." It was signed by Coinbase, Kraken, Bitstamp, BTC China, Blockchain and Circle.
Meanwhile, Reuters has today confirmed that the Japanese authorities are investigating. "'At this stage the relevant financial authorities, the police, the Finance Ministry and others are gathering information on the case,' Chief Cabinet Secretary Yoshihide Suga told a regular news conference when asked about Tuesday's shutdown of the Tokyo-based exchange," it reports.
However, for now nothing certain is known – MT Gox could be bankrupt, it could have had 6% of the world's current supply of bitcoins stolen, or it could be in the throes of a strange takeover. The only thing we can be sure of is that the rumors will continue and probably grow until someone comes forward with the authoritative truth.