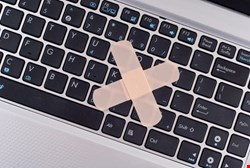 The latest Consumer Reports Annual State of the Net Report found that a lack of basic security is to blame.
"Our Annual State of the Net Report revealed that home computers are no safer than they were last year. Effective security software, like the ones we recommend in our latest Ratings, is essential to protect against online threats," said Jeff Fox, technology editor for Consumer Reports, in a statement.
Most new computers typically come loaded with an anti-malware program, usually a trial version. When that trial runs out, users are left with the choice of either paying up or making do without it. Too many consumers take the latter tack, even though Consumer Reports points out that some free products can be sufficient for run-of-the-mill users.
"[Some free software offer] very good protection from online threats and should adequately protect all but the most at-risk Internet users," the advocate organization said. Computer users who remotely access their files when they're away from home will need stronger protection and should consider a pay suite, however.
The survey also asked people whose computers had been infected by malware how they verified such problems: 62% relied on anti-virus software to notify them; 17% felt they were savvy enough to verify it themselves; 15% relied on someone else with computer expertise; and 5% used a retailer's in-house tech support service.
The report also examined other cyberthreats to the consumer landscape, and found that 9.2 million Americans were victims of phishing schemes in the past year, tricked into submitting personal data to criminal websites that appear to be well-known companies' sites. Going hand-in-hand, heavy spam afflicted 43% of those surveyed by Consumer Reports.
Among the big-name companies whose names successful phishers used most often are Bank of America, Chase, Facebook, PayPal and Visa.
Also, Facebook continues to be a source of trouble. A projected 9.8 million adult Facebook users had their account used by an unauthorized person; had their reputation harmed; or were harassed, threatened or defrauded. Also, several hundred thousand minors were bullied on Facebook, and at least 3.7 million preteens violated its terms of service by actively using the social network, the report said.
Also, 28.5 million Facebook users altered personal information in their profile to protect their privacy, Consumer Reports estimates. Birth dates and names were the biggest fakes.