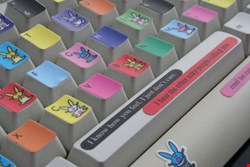 Cyber-challenges are increasingly common as industry groups and governments look to attract fresh talent to the field of information security. Good examples are Britain's Masterclass challenge and DARPA's Cyber Grand Challenge. Now, Social-Engineer.Org is kicking off the Social Engineering Capture the Flag for DEF CON Kids – a competition for young tykes interested in becoming white hats.
"This contest is designed to use a blend of social skills, password and cipher cracking, lock picking and good old-fashioned social engineering to accomplish a set of challenges," the group explained. "Each challenge must be completed in order to eliminate a suspect, room or social engineering weapon until the first team to solve the crime is declared the winner."
Think of it as an updated, virtual version of Clue.
Aimed at kids between the ages of five and 12 (yes, that's five years old), the contest will be collocated with DEF CON. The winner garners a Kid's Social Engineering kit, winner's plaque and spot on the Social-Engineer.Org podcast for each team member.
Lest the public think that it sounds like a way to indoctrinate kids to think like criminals at an early age, the organizers were quick to note that "no one gets victimized for the duration of this contest. Social engineering skills can be demonstrated without engaging in unethical activities. The contest focuses on the skills of the contestant, not who does the most damage. Our goal is to raise awareness to the threat that social engineering poses and educate kids in skills that can be very useful in life."
But then, the rules also prohibit anything "that can get Social-Engineer.org, DEF CON, or the participants in the contest sued."
The format will be a capture-the-flag approach, where the flags are a custom list of specific bits of information, which the contestant will have to discover by completing the challenges using social engineering skills and ingenuity. The flags are essentially clues that must be solved to eliminate a person, room, or social engineering "weapon" in order to solve the crime.