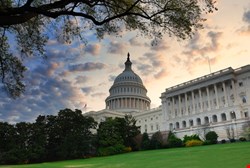 Other measures being considered by the full House are the Federal Information Security Amendments Act (HR 4257), the Cybersecurity Enhancement Act (HR 2096), and Advancing America's Networking and Information Technology Research and Development Act (HR 3834).
CISPA (HR 3523) is given two days on the House calendar, probably because of the controversy surrounding it and the expected number of amendments. The bill has already been amended by House sponsors to address some objections brought up by privacy advocacy groups by narrowing the definition of what is considered a cyber threat.
Supporters of the bill argue that it will enable the private sector to share information with the government on a voluntary basis in order to combat cyber espionage and intellectual property theft. But critics warn that it could grant the government expanded power to monitor and censor the internet.
HR 4257 would overhaul the 10-year-old Federal Information Security Management Act (FISMA), which governs the security of the US federal government's IT system. Unlike legislation in the Senate, which would transfer FISMA responsibility to the Department of Homeland Security (DHS), the House bill would retain responsible for FISMA implementation with the Office of Management and Budget (OMB).
The Cybersecurity Enhancement Act would improve coordination of federal cybersecurity research, and HR 3834 would authorize cybersecurity research and development funding.
Absent from the cyber week agenda is the Promoting and Enhancing Cybersecurity and Information Sharing Effectiveness (PRECISE) Act, which would encourage critical infrastructure companies to adopt cybersecurity best practices. Stripped from the bill by the Homeland Security Committee was a provision favored by the Democrats that would have given the DHS responsibility for safeguarding critical infrastructure cybersecurity.