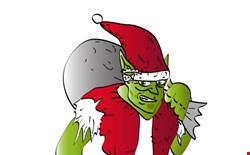 Well, the US Department of Homeland Security (DHS) has some tips to prevent the Cyber Grinch, also known as cybercriminals, from stealing your joy.
Online shoppers should pay attention to the URLs of websites they visit, DHS advises. Malicious websites sometimes use a variation in common spelling or a different domain (for example, .com instead of .net) to deceive computer users.
When banking and shopping online, consumers should check to be sure the site is secure. They should look for web addresses with "https://" or "shttp://", which means the site takes extra measures to help secure information.
DHS recommends that shoppers use credit cards instead of debit cards. There are laws to limit liability for fraudulent credit card charges, and but there may not be the same level of protection when using a debit card.
Online shoppers should keep a record of their purchases and copies of confirmation pages; these should be compared with bank statements. If there is a discrepancy, consumers should report it immediately.
Before providing personal or financial information, online shoppers should check the website's privacy policy.
Finally, online shoppers, or anyone for that matter, should keep their operating system, browser, anti-virus, and other critical software up to date.