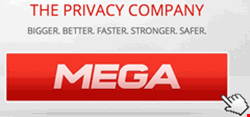 Mega is Kim Dotcom's new file sharing and archiving venture, built to replace and improve on the defunct Megaupload. It describes itself as "The Privacy Company. Bigger. Better. Faster. Stronger. Safer." Whether it actually becomes that will be seen over time.
Key to Mega, believed to have attracted 1 million users within 24 hours of its launch, is security. The new site was built from scratch by its own staff. According to The Next Web, "Kim said that 'everyone involved in building the site has a background in information security' which meant a lot of care had gone into building security in from the start."
Its flagship feature is encryption, what it calls UCE (user controlled encryption). Files are encrypted on the user's computer, stored in encrypted form by Mega, and decrypted by the user's computer. Mega has no knowledge of the content of the files. Dotcom believes that his UCE technology will bring easy-to-use encryption to the masses, being used in the future to protect emails, calls, chats and video streams. The downside is that it places an extra burden on the user's computer, while the upside is that files becomes more secure. The threat vector is the user's storage of the decryption key rather than anything in Mega.
Ironically, this makes the use of Mega more compatible with European data protection requirements than many alternative cloud storage systems which either do not have encryption or store the keys in the cloud – and are consequently likely to contravene the European data protection laws for sensitive data. Given that users get 50GB free storage, and that 4TB of storage and 8TB bandwidth can be bought for $29.99 per month, use of Mega for both data backup and large file sharing by international collaborators becomes an attractive business proposition.
This is just the beginning. The Mega blog provides an extensive development roadmap, including file transfer queue enhancements, file manager enhancements, collaboration feature enhancements, and client applications. "A Windows filesystem mount is currently in beta and will be available shortly," while Linux/OSX filesystem mounts are planned. For the moment, Mega makes extensive use of HTML5. "MEGA pushes the browser to its limits, and these limits vary. While it does work with all major current browsers, there are some weighty feature and performance differences." It concludes, "If you are planning on using MEGA frequently, there is currently no alternative to using the most advanced browser currently in existence - Google Chrome."