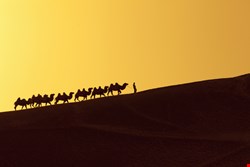 Ross Ulbricht is accused of being Dread Pirate Roberts, the owner of the now defunct Silk Road website. Silk Road was the go-to source for no-questions-asked purchases via the dark web – anything from drugs to guns. Ulbricht denies that he is Dread Pirate Roberts and applied for bail. His lawyer proposed a package worth $1 million together with restricted movement and no access to the internet.
In response to the application for bail, New York states attorney Preet Bharara wrote to Judge Fox, saying, "the defendant presents both a danger to the community and a severe flight risk. Accordingly, consistent with the recommendation of Pretrial Services, the Government seeks his detention." The content of the letter, however, contained new allegations – prosecutors are now claiming that DPR ordered a total of six separate murders over the course of just four months during 2013.
"Moreover," says Bharara's letter, "he repeatedly resorted to violence in seeking to protect his lucrative business, commissioning at least six murders for hire in connection with operating the site. As to flight risk, Ulbricht has a strong incentive to flee given the overwhelming evidence against him and the considerable penalties he faces." The letter notes that although none of the murders was carried out, "Ulbricht clearly intended them to happen."
Accusations of involvement in only two proposed murders had been known before this letter. The original charge documents in New York indicated the order of a Canadian murder. No body was ever found, and it was assumed that Ulbricht had been tricked into ordering a hit that never happened.
A separate charge brought in Maryland, however, provided more details on a second incident. Wired reports that it claims "that Ulbricht, or DPR, allegedly negotiated with an undercover federal agent, who was paid $80,000 to torture and kill a former administrator of the Silk Road drug emporium. In that case, federal agents staged the torture and killing of Curtis Clark Green, a former administrator of Silk Road who lives in Utah. Green has acknowledged that federal agents took photos of the mock torture and murder. Federal officials told WIRED that half a dozen images, including ones showing mock waterboarding and a 'corpse,' were sent to DPR to prove that his former administrator had been killed."
The additional accusations were clearly designed to make absolutely certain that Ulbricht was not granted bail. "Given his willingness to pay approximately $730,000 for attempts to kill six people, there is no reason to believe that he would not again resort to violence in order to protect himself," says the government submission.
Judge Fox agreed. "I am not convinced that there are conditions that could be fashioned to secure his presence in court," he said. He denied bail and ordered that Ulbricht be detained until trial.