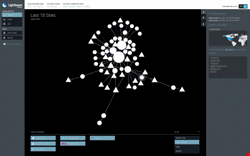 Last week Alex Fowler, who heads up privacy and public policy for Mozilla, blogged about his attitude to privacy on the internet. "According to leaked documents from Edward Snowden, governments see their ability to spy into our personal lives as the 'price of admission' for use of an open Web," he wrote. "The same justification is given by industry lobbyists: that online tracking is the price for content and services. The powers-that-be believe we surrender the basic rights and freedoms we enjoy offline when we are online. And as someone who cares deeply about the Web, I take this personally."
Now he and Mozilla have announced a new add-on that rolls back the curtain of secrecy over which companies are tracking users as they surf the internet. Called Lightbeam, it provides a real time visual display of all the other websites that interact with the pages viewed by the surfer. This can be via social media 'like' buttons, or simple tracking cookies.
It is not, in itself, necessarily a bad thing, says Mozilla. Cookies are often necessary and benign. But the worrying aspect is that so much of it happens clandestinely, and users are largely unaware of the extent of internet tracking.
"This morning, I checked four websites," said Fowler on a separate Mozilla blog, Friday, "By the time I'd finished my cup of coffee I had actually interacted with over a hundred and twenty different companies... Very few people understand that. Very few people recognize that the interactions they have online are far more expansive than just the websites they think they are visiting each day."
Lightbeam provides a view into all of those online interactions. It's purpose is not to stop or criticize the tracking, but to ensure that users can be aware of its extent. The graphical view shows the sites that have been visited. While writing this report, the author visited 9 sites, but actually interconnected with 81 further third-party sites. Many of these were advertising companies, and many placed cookies.
Mozilla is inviting Lightbeam users to share their connection experience: "we're creating a big-picture view of Web tracking and of how first and third party sites are connected to each other," it says. "Call it a Wizard of Oz moment for the Web, where users can collectively pull back the curtain see its inner-workings."