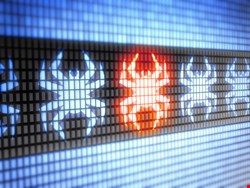 The third quarter of 2012 saw 981 million hacks attempted globally, according to NCC Group, in its quarterly Origin of Hacks report. That's a full 23 million more hacks than were attempted in Q2, and follows four consecutive quarters of increases. Considering that there is no sign of a cease-fire in the offing from hackers, the conclusion is clear: the growth trend will continue unabated. Given the present rate of increase, the numbers are expected to exceed one billion in Q4 2012.
The US remains the No. 1 country for hack origins, generating one in five. But the highest growth in hack attempts come from Russia and China, with an increase of nearly 70 million originating from these countries in the third quarter when compared to just one quarter earlier, NCC found.
Meanwhile, despite the overall global increase in attempts, the number of hacks originating in the UK fell by five million in Q3. As a result, the UK fell out of the global top 10 of countries from which hacks originated.
"Passing the one billion mark is a milestone no one should be proud of," said Rob Cotton, CEO of NCC Group. "We've had copious initiatives and plans announced in the last quarter from bodies and governments aimed at addressing this issue, but the urgency just doesn't seem to correlate with the growing threat."
For instance, UK Foreign Secretary William Hague recently announced that the UK is planning to spend £2 million per year to set up a new cybercrime center. The UK Centre for Global Cyber-Security Capacity Building will be supported by a network of eight universities, with the aim of acting as an international organization offering aid to countries across the globe. The idea is to bring together governments, researchers, think tanks and the private sector, as the UK seeks to be the central hub for international coordination on cyber threats.

Meanwhile, the UK Government Communications Headquarters (GCHQ – one of the UK's three intelligence agencies) has set up a new academic research institute to improve understanding of the science behind the growing cybersecurity threat." The research institute, funded by a £3.8 million grant, is a virtual organization under the auspices of seven universities, bringing together social scientists, mathematicians and computer scientists from across the UK.

There are other moves afoot as well to rise to the threat. "In the last quarter, we've had news from William Hague about: a plan to recruit 100 members of 'generation Xbox' to help fight cyber crime; a scheme from the foreign office to offer advice to business leaders on tackling cyber threats; and, news that we have begun tentative talks with China and Russia about setting up a hotline to help prevent cyber-emergencies from spiraling out of control," Cotton said.
However, initiatives like these barely scratch the surface on what needs to be done, he added. "This shows a real awareness of the ever-growing problem, but these initiatives alone are not going to solve the problem. Public and private sector must work together, strategically and tactically, if we are going to be able to realistically defend against a billion hacks a quarter."