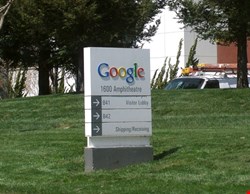 Google's revised privacy policy merges separate rules for about 60 services into one, combining users' personal data across its products and services.
The class action suit represents people who held Google accounts and mobile phones running the Google Android operating system from August 2004 until after 1 March 2012, when the new privacy policy went into effect, according to the San Francisco Chronicle.
The lawsuit, filed in a federal court in Manhattan, seeks financial compensation for the alleged deception and alleged violation of the Computer Fraud Abuse Act and Stored Electronic Communications Act.
Announcing the planned move in January, Google said the revised privacy policy would provide a simpler, more streamlined experience for users.
At the time, the Electronic Privacy Information Center (EPIC) expressed concern that the changes could erode user privacy and lower privacy standards.
The Electronic Frontier Foundation (EFF) said Google's disclosure – that it will track what users do across all Google-owned services – comes across more like a confession than a bold new move.
This story was first published by Computer Weekly