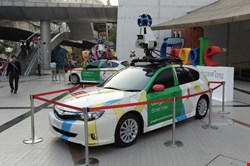 The FCC has been trying to get the information from Google for two years, when it first came to light that Street View cars were collecting WiFi data. The revelation stirred controversy in Europe, the US, and Australia. At the time, Google said that its Street View cars unintentionally collected internet communications transmitted via open WiFi networks because of a mistake in the software the company used.
The FCC launched an investigation into the incident back in 2010 to determine whether Google violated US federal laws by collecting the WiFi data. It sent a letter of inquiry to the company asking for information on the company's WiFi data collection activities.
Over the course of two years, the FCC has asked Google for the information repeatedly, with no success. "Google deliberately impeded and delayed the [FCC's] investigation by failing to respond to requests for material information", the commission said in a recent document.
Well, it appears that the regulator has finally run out of patience. It is levying a fine of $25,000 on Google for "willfully and repeatedly violating an [FCC] directive to respond to a letter of inquiry."
Comments from the Slack Space
At long last, this fine should make Google and other companies who dare to ignore the will of a US federal agency to sit up and take notice.