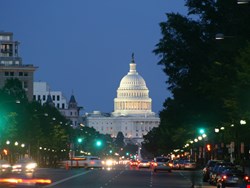 The bill (HR 3523) would reduce legal barriers to information sharing among companies and the government about cybersecurity threats. But critics charge it would undermine privacy and give the US government too much surveillance power over the internet.
The House passed the bill, by a vote of 248-168, with a surprising 42 Democrats voting in favor of the bill. Prior to passage, lawmakers approved amendments proposed by the bill's sponsors Reps. Mike Rogers (R-Mich.) and Dutch Ruppersberger (D-Md.) designed to address critics' concerns. Other amendments approved would ensure that Freedom of Information Act (FIOA) would still apply to information collected under the bill and would prohibit the federal government from collecting library records, firearms sales records, and tax returns, according to a report by The Hill newspaper.
President Obama has threatened to veto the bill should the Senate approve it – an unlikely prospect.
In addition, the House approved the Federal Information Security Amendments Act (HR 4257), which would overhaul the 10-year-old FISMA legislation by requiring federal agencies to implement automated and continuous monitoring of government information systems. The bill would retain authority for FISMA implementation with the Office of Management and Budget, in opposition to the push by the Obama administration and Democrats in the Senate to shift it to the Department of Homeland Security.
Two other cybersecurity research and development bills that were teed up for a vote on Thursday were approved by the House on Friday.