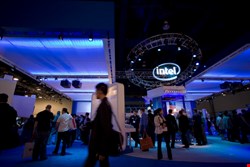 In such a cauldron, security becomes too important not to have it embedded in all devices, he noted, adding that the silicon giant would be renaming its subsidiary McAfee as the rather straightforward Intel Security.
Intel, which bought McAfee in 2010, will keep the familiar red shield logo, however. It represents "their core values of security and protection," he said.
"The complexity of keeping digital identities safe grows as mobile applications and devices become a more important part of our daily lives," Krzanich said during the event. "Intel's intent is to intensify our efforts dedicated to making the digital world more secure, and staying ahead of threats to private information on mobile and wearable devices."
Apparently, the decision to drop the McAfee name was met with rejoicing by the eponymous company's founder.
"I am now everlastingly grateful to Intel for freeing me from this terrible association with the worst software on the planet," said John McAfee, who founded the anti-virus software company 27 years ago, speaking to the BBC. "These are not my words, but the words of millions of irate users. My elation at Intel's decision is beyond words."
McAfee left the eponymous company in 1994, after which it was acquired by Intel for $7.7 billion. Since then, he has become a headline-grabbing, eccentric figure after becoming the subject of a manhunt in Guatemala and claiming that Belize helps terrorists enter the US.
Meanwhile, Krzanich announced that Intel also plans to offer elements of McAfee's security solutions for mobile devices for free, including Android and iOS devices. More details will be announced in the coming months, the company said.
And, it plans to offer Intel Device Protection technology, which will help Intel-based Android mobile devices meet most security standards for use at home and work, against the backdrop of the bring-your-own device phenomenon.