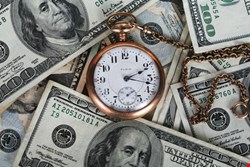 A new study released by Globalscape has outlined the devastating effects on business when core systems fail, whether from a security event or simple infrastructure failure. Beyond the obvious loss of employee productivity, 76% of respondents in the survey said that downtime frustrates their end users; 43% lost crucial data or important communications; and 52% said their workforce has been unable to send or receive critical, timely files. The latter two have serious security implications, and all of them have cost ramifications.
Three-quarters (76%) of IT professionals also noted that if their workforce is unable to send or receive critical and timely files due to system availability issues, a new security concern arises, considering the information-sharing behavior of today's employees. According to report, when internal technology comes up short, employees regularly turn to consumer-grade tools to send and access confidential information.
A full 63% of employees have used remote storage devices, like USB drives, to transfer confidential work files. Almost half (45%) of employees have used consumer sites like Dropbox and Box.net to share sensitive business information. In addition, 30% of employees have used cloud storage services for work-related files.
"When employees use consumer-grade alternatives, frustration and productivity issues quickly evolve into serious security and compliance vulnerabilities, repeatedly putting organizations and their customers at risk," the report noted.
Meanwhile, when critical systems unexpectedly go down, the risk of losing and therefore exposing important information altogether significantly increases. Nearly half of all employees surveyed said they've lost important data and emails when core systems have gone down.
The issue is even worse among mid-sized companies: 62% of employees surveyed said they've lost data as a result of downtime. And, perhaps surprisingly, senior-level executives appear to be the hardest hit. Of those surveyed, 75% said unexpected downtime has caused them to lose important communications and data. Depending on the type and amount of data lost, the effects can be crippling, affecting everything from sales and customer service to compliance, security and productivity.
Taken altogether, it's not a chump-change proposition for companies to lose system access. While lost files or delayed emails may not have an "assigned" value, per se, every minute that a core system is down costs companies money. Globalscape's survey found that 60% of enterprise employees who estimated the financial cost of downtime on their organization said that a single hour without critical systems costs their company between $250,000 and $500,000 – and one in six reported that an of downtime can cost the aforementioned $1 million or more.
Despite the costs and implications, system downtime is all too common. A vast majority (90%) of organizations said that they often unexpectedly lose access to critical systems, including mail servers, back-end processors, and file servers, and almost a third deal with downtime issues at least once a month.
"Downtime, while understood to be tremendously costly and frustrating, has become commonplace and even expected in the enterprise," said James Bindseil, president and CEO of Globalscape, in a statement. "Oftentimes, downtime can be avoided, and companies should expect more from their vendors."