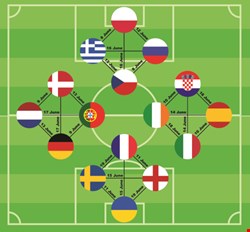 McAfee has put some figures to the extent of the international football lure. Using its SiteAdvisor system (a system that evaluates and ranks websites for risk), McAfee has produced its most dangerous football team. This comprises the 11 riskiest footballers in Euro 2012: those names where a search engine query is most likely to lead you to a malicious or compromised website. That malicious site will then attempt to exploit any visitor. "Clicking on these dangerous sites to download files like photos, videos or screensavers," warns McAfee, "may expose [visitors] to viruses and malware."
The most dangerous player is, not surprisingly, Christiano Ronaldo, with a McAfee risk rating of 6.2%. Least dangerous in the team is Daniele De Rossi, with a 1.8% risk rating. Great players like Fabregas and Rooney don't feature; and the only Englishman dangerous enough for the team is Steven Gerard, with a rating of 4.5%. It's a fun idea with a serious message from McAfee: be very careful on what you search for, where you go, and what you accept from the internet – especially in times of international events.
McAfee used the same principle to find the most dangerous teams competing in the competition. France and Portugal are the most dangerous, with a risk rating of 7.1% each. Germany, a little surprisingly given its high native population and continuing success in the competition, is only third with a rating of 5.4%; closely followed by England with 5.3%.
But McAfee also points out that it's not just the players nor even the teams that lead to malicious sites. "Even the WAGs of the dangerous players give cause for concern," it notes, "with the partners of Cristiano Ronaldo (7%) and Andriy Shevchenko (5%) coming first and second respectively in the danger stakes."
It is a timely warning with Wimbledon now in progress and the Olympics around the corner.