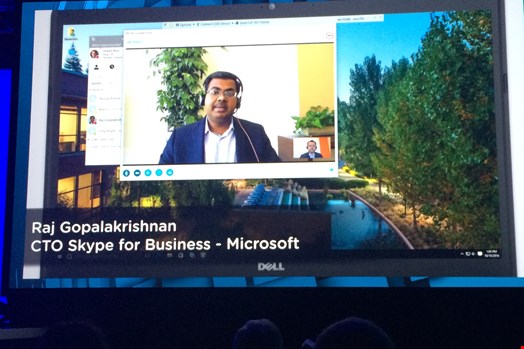 Today, at VMworld 2016 in Barcelona, VMware's Sunjay Poonen, GM end-user computing, head of global marketing, announced the company's new collaboration with tech giant Microsoft to enhance the Microsoft Skype for Business experience in Horizon virtual desktops and published applications, before introducing a live technology preview on stage.
The solution will create a direct peer-to-peer endpoint virtual channel and offloads media processing to the endpoints, resulting in an improved end-user experience while reducing the strain on datacenter infrastructure.
In general, the use of Skype for Business in a virtual desktop offers secure collaboration to keep corporate data secure in the datacenter and prevent data leakage. It also offers simple management with greater visibility, policy management and control through centralized deployment and application updates. Lastly, it delivers a consistent end-user experience across any device and platform along with lower IT infrastructure costs.
"Microsoft and VMware have a long history of collaborating to bring modern desktop and application solutions to customers and those efforts continue with the technology preview of Skype for Business on Horizon 7," said Andrew Sinclair, general manager, Skype Marketing, Microsoft.
"Microsoft providing Skype API's to VDI vendors such as VMware enables both companies to offer great Skype deployment options to their customers. Virtualization provides benefits such as secure collaboration by avoiding remote data loss, simplified desktop management, and a consistent experience for virtualized users."