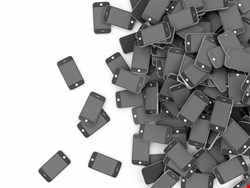 The firm in new research sees the mobile security challenge as dynamic and multi-faceted. The proliferation of mobile devices is providing cybercriminals with additional launch points for targeted attacks, spurring demand for mobile endpoint protection solutions globally. Hackers are able to gain access or control of mobile devices via malicious software, while mobile applications on the device can perform unwanted, high-risk actions. This jeopardizes the safety of sensitive data stored on the device, as it can be lost or stolen. With the ubiquity of mobile devices and trends such as bring your own device (BYOD), industry and government regulations requiring businesses to control network access for all device types and applications adds to market growth.
The mobile security challenge thus requires a layered, defense-in-depth strategy that protects data at rest and in motion, provides protection for the actual device, and includes network-based controls for mobile traffic (including application traffic).
"Smartphones may fail to meet organizational security and compliance policy requirements as they are extremely susceptible to mobile malware breaches and unwanted or high risk mobile applications," said Frost & Sullivan network security senior industry analyst Chris Rodriguez, in a statement. "The need to counter these new attack vectors presents a tremendous opportunity for developers of endpoint security software."
The research notes that end users from the business segment are opting for established security vendors such as McAfee and Symantec that offer essential enterprise central management and reporting capabilities. However, emerging start-ups are gaining traction in the strategically important consumer market with inventive, free or low-priced solutions.
The sector also faces competition from other mobile security products. For instance, mobile device management (MDM) capabilities are considered an essential first step in addressing mobile security needs and a suitable replacement for mobile endpoint security solutions. Unfortunately, MDM does not address mobile malware and unwanted, high-risk mobile applications, the research noted.
"Mobile endpoint protection vendors should seek to acquire MDM companies to enable a robust enterprise endpoint security and device management portfolio," suggested Rodriguez. "Leveraging new technologies such as cloud-based malware analysis, application wrapping and containerization to deliver innovative solutions will further widen the global customer base."