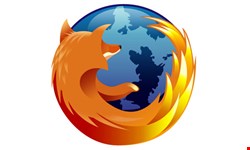 In Firefox 13, Mozilla added a feature in which snapshots of recently visited webpages are displayed as thumbnails when the browser is opened. However, users have complained that the snapshots sometimes contain personal information, such as bank account numbers, according to a report by The Register.
A Register reader named Chris said he discovered that his bank account number, balances, and subject lines appeared on the tab thumbnail from a previous banking session. "This content is behind a secure login for a reason", Chris opined.
The Register contacted Mozilla, which said it was working on a fix that will be released in a future Firefox update.
"We are aware of the concern and have a fix that will be released in a future version of Firefox….The new tab thumbnails are based on users' browsing history. All information is contained within the browser and can be deleted at any time. Users can also switch back to using blank new tab screens by clicking the square icon in the top right corner of the browser. That will change the default preference to show a blank page, rather than the most visited websites when a new tab is opened", Mozilla said in a statement.
"Users who share their computer or use Firefox on a public computer should follow best practices for protecting their privacy by utilizing the built-in privacy tools in Firefox, such as Private Browsing Mode", the open-source organization added.