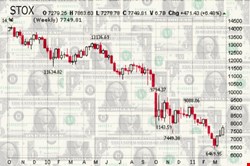 NQ was the Wall Street's biggest gainer yesterday, rising more than 25%. However, with its price at just over $11 it remains far down on the pre-Muddy Waters height in excess of $24.
Key to NQ's rally has been its attempts to demonstrate its cash balances. Muddy Waters had claimed that these purported balances were "highly likely to not exist", and that at least 72% of its China revenue was fictitious. NQ responded on Friday with a list of 14 mainland China bank accounts showing deposits equivalent to almost $300 million.
Muddy Waters was still unconvinced and told Reuters in an email, "NQ should get its cash balances confirmed by independent capital confirmation firms." NQ responded by going further – it announced yesterday that it would transfer approximately $100 million into a new account with Standard Chartered Bank.
"The account was opened today and the initial term deposit of approximately RMB 100 million (or USD $16.4 million) has been transferred to the Standard Chartered Account," it said in a statement. "The remaining portion of the approximate USD $100 million to be transferred will be processed soon. The Company has authorized Standard Chartered Bank to allow an independent verification of the account validity and provide related details to any interested investor who requests the information in good faith."
NQ has also put a detailed 97-page refutation of the Muddy Waters accusation into the public domain. This is also being well-received. It explains, for example, that it reclassified its "cash and term deposits as Level 2 assets... consistent with US GAAP guidance of fair value measurement." But it didn't make this clear (although it claims it did) at the time.
"That is a self-inflicted wound", explains Paul Gillis in his China Accounting Blog, "since an explanation probably would have headed off this part of the Muddy Waters attack. Instead, Muddy Waters suggests that the change implies the cash might have been diverted and is not there." By moving $100 million to a viewable Standard Chartered Bank account, NQ intends to demonstrate that the cash really exists.
The NQ refutation document is also full of details on its trading. Bloomberg reports, "'NQ's detailed information can provide comfort to investors as they gave the real names of third-party handsets, which is good because investors then know where to look for confirmation",' Michael Ding, lead manager of the China Region Fund (USCOX) at U.S. Global Investors, which oversees $2.2 billion, said by phone from San Antonio, Texas yesterday. 'Information on actual users and handsets is important to confirm that the business is real, while cash is important to confirm asset safety and, by extension, that the business makes money.'"
But even if NQ successfully fights off the Muddy Waters attack, the episode will still have its effects. Apparently based on the Muddy Waters accusation, Apple has seemingly removed NQ's iOS games from the App Store. "It appears that the games from their mobile gaming division, FL Mobile (also known as Feiliu), had been all removed from Apple's (AAPL) App Store for some undisclosed reason", reported Seeking Alpha yesterday. FL Mobile's net revenue, according to NQ, was $7.5 million in Q2, 2013.
Stockholder Phuong Ho yesterday filed a complaint in federal court in Manhattan (Phuong Ho v. NQ Mobile Inc., 13-cv-07608) seeking damages under securities laws on behalf of investors who bought stock after NQ's IPO and before the Muddy Waters report. NQ declined to comment directly, but referred back to its previous statements that the Muddy Waters accusations are false.
Meanwhile, NQ has itself brought a lawsuit against Muddy Waters. A report in Global Times states, "'We've already brought a lawsuit against Muddy Waters at a court in Beijing,",[Lin Yu, CEO of NQ Mobile] said without specifying details, and noted that the company is also mulling suing the US short-selling firm in Hong Kong and the US."