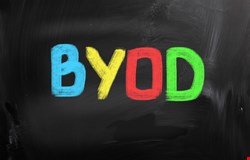 A quarter of US employees have had security problems with their personal mobile device at work but only 27% reported the issue to their boss, according to new Gartner research highlighting the ongoing risks associated with BYOD.
The analyst interviewed 1,000 full and part time workers in the States, all of whom said they use their private device for work.
A quarter said their employer requires the use of personal devices at work, 15% said they signed a BYOD agreement, a third said their company has no formal policy in place and the rest said they either don't have a policy in place or are unaware of BYOD.
That amounts to a worryingly large percentage (59%) of staff who use their own personal devices at work but have no formal agreement with their employer.
Principal research analyst Meike Escherich said in a
statement
that the growing cyber threat to mobile devices means employers must embrace, but also tightly manage,
BYOD in the enterprise
.
"One of the biggest challenges for IT leaders is making sure that their users fully understand the implications of faulty mobile security practices and to get users and management to adhere to essential steps which secure their mobile devices," he added. "For many organizations, overcoming BYOD security challenges is a full-time task, with a host of operational issues."
Around half of respondents said they spend over an hour a day using their devices for work, while a similar number told Gartner they also use it for "social and productivity tasks".
"This has different implications," said Escherich. "It might point to employees considering their personal devices as necessary tools for their jobs. On the other hand, it also points to work-related documents regularly being transferred to private devices, leaving the security of the company network."
He said many firms, especially SMBs, are failing to take the necessary steps to secure the use of BYOD, including the development of "
solid BYOD policies based on their business requirements and risk profiles
".
The risk to mobile devices in particular was highlighted this week by Trend Micro, which claimed in its Q1 Security Roundup report that mobile malware has now surpassed the two million milestone, just a few months after hitting the one million mark.
It also claimed that attackers are increasingly using more sophisticated techniques to infect users, such as exploiting vulnerabilities in legitimate apps.