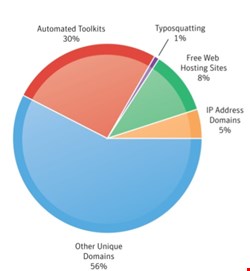 30% of phishing URLs were generated using phishing toolkits, according to Symantec, representing a 24% increase over the previous month. The proportion of unique phishing URLs decreased from 75% to 70% in October, further indicating that toolkit activity is increasing, according to Symantec, which said that the trending of the two is normally inversely correlated.
"The recent downtrend of phishing attacks, in all likelihood, is seen to have been discontinued with the resurgence in toolkit attacks in October, and signals the approach of the holiday season", said the report.
Other indicators support this trend. For example, most of the brands targeted by phishing toolkits in October had been 'unplugged" by scammers in the past. "This in all likelihood indicates that the fraudsters have reactivated many command and control servers, withdrawn recently, for a new season of phishing activity", the report added.
Other significant statistics included a 45% increase in non-English phishing sites between September and October, with Italian, French, and Chinese sites growing in number. And the number of phishing web hosts in South Korea increased by 100%.