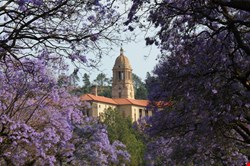 "Cybercrime threats are global curses of advances in technology. This means that our electronic communications networks must be ultra secure in order to build confidence amongst the users of ecommerce platforms", Communications Minister Dina Pule said in a press briefing this week.
Pule said that her department worked with the Justice and Crime Prevention Departments to develop the National Cybersecurity Policy Framework for South Africa, which will be sent to the cabinet in March.
In February 2010, then Communications Minister Siphiwe Nyanda released the department's draft policy on cybersecurity, but the policy had not been finalized over the past two years.
The policy is intended to provide direction for online security in the country. One of the key aspects of the policy is a plan to introduce national and sector-based computer security incident response teams.
The news that the policy will finally be submitted to the cabinet comes after a major hack of the government-owned Postbank, which resulted in the theft of R42 million ($5.4 million).
At the beginning of this month, cybercriminals broke into an employee's computer and transferred money from other accounts into their own. Then they withdrew the money from several ATMs, according to Fin24.