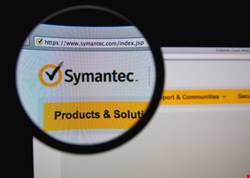 Even though it's the giants that snag headlines—Target, Saudi Aramco—the small and medium-sized business (SMB) segment still accounted for 30% of all cyberattacks in 2013, according to Symantec's Internet Security Threat Report. Given today's mobile and data-driven world, these companies face increasingly complex security challenges, and often have to face them without the benefit of an IT department.
"Businesses today rely on multiple computers and smartphones to conduct business and access information," Symantec said in a blog announcing a new security offering for small business. "This free flow of information has created tremendous opportunity for small businesses and the cybercriminals who target them. While the risks are real, small business owners with fewer than 20 employees often wear multiple hats and don't have the time or resources to manage IT needs. They need simple, easy-to-use information security and management solutions."
In the UK alone, the Department for Business estimates that there are approximately 4.86 million small businesses with fewer than 49 employees. And according to the Symantec report, those small businesses in the UK represented 22% of targeted cyberattacks in 2013. It's clear the threat is only going to get worse: last year saw an across-the-board uptick of 91% in targeted attack campaigns.
Unfortunately, many small businesses don't invest in employee training, and tend to be rife with poor security practices on the part of employees. In an AVG study from last autumn, A significant proportion of SMBs routinely spend more time tidying their desk (37%) or ordering new business cards (22% UK, 21% US) than backing up data. The majority of small businesses (59% UK, 54% US) have no enforced back up policy.
When it comes to mobile device data, around a third of SMBs (32% UK, 34% US) have up to 10% of their workforce out of office at least once a week. At the other end of the scale the rise of mobile device business use is highlighted by those small businesses (11% UK and 17% US) who say that 80 to 100% of their workforce is out more than one day a week, contributing to increased vulnerability.
Unfortunately, small businesses can't absorb the financial hits from attacks and breaches as well as their larger brethren. A typical small business in the UK could face an annual cost of £4,000 from the risk of fraud and online crime--enough to send some right out of business.

Seeing the need in the market, Symantec has introduced Norton Small Business, a cybersecurity solution customized to support and protect small businesses with fewer than 20 employees. Norton Small Business builds upon Symantec's existing security suite but adds small business-focused features to enhance ease of use and management to help this segment be more prepared.
In addition to anti-virus functionality, it offers proprietary Norton Mobile Insight app scanning technology as well as remote locate, lock and wipe capabilities to help manage lost or stolen devices. In a nod to the proliferation of BYOD and mobility in the workplace, it can cover multiple business and employee devices including PCs, Macs, Android smartphones and tablets, iPhones and iPads. A web-based management portal allows a business owner to monitor and manage devices, ensuring protection levels across the business are current.
Norton Small Business is offered as a subscription model so that businesses can add or transfer licenses on the fly, based on changing business needs. Employees can also access Norton support directly and reach live agents for troubleshooting.