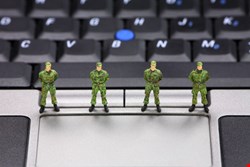 Further, the NSB warned that the activity is shifting from targeting government institutions to spying on civilian think tanks, telecom operators, internet node facilities and traffic signal control systems. Factory-grade microcomputer controllers and cloud storage spots are also on the hit list.
According to the Taipei Times, the NSB made the statements in a report on the country's preparedness against Chinese hackers that was created for a legislative hearing on cybersecurity for Monday.
For its part, the Chinese government has rejected the accusations. The Financial Times reports that Sun Yafu, vice minister of China's Taiwan Affairs Office, said that China is merely getting a bad rap.
"There are a lot of people saying that the cause of the problems is from China. I just don't get it," said Sun, speaking at a conference in Taipei. "If it has the possibility to become an issue between both sides, I would suggest let's sit down and talk about this. What is the reality?"
He added that cybersecurity "is going to be more and more serious. It causes serious damage to economies . . . But, it very, very often is we who are the ones people blame it on. I think this needs to be clarified."
Taiwan's government insists, however, that last year it was hit by 251 successful espionage or network-damaging attacks, mostly from mainland China. In 2011, more than 300 successful attacks were discovered.
The bureau also said that it was fending off an average of 209 attacks per day, and averted 3.34 million actions last year. Mostly reconnaissance missions, the attacks are believed to be paving the way for a more comprehensive attack that will give hackers in-depth control over internal systems in order to steal or forge information, and paralyze internet communications.
The bureau also cautioned that the first line of the attack, as with many advanced persistent threats, will be spear phishing of some kind, likely via social media.