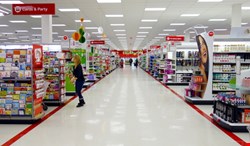 The retailer also provided details on additional security enhancements it has made following the breach, and shared plans to incorporate MasterCard chip-and-PIN technology across its REDcard portfolio.
Bob DeRodes will take the technology helm on May 5, as executive vice president and CIO. He will assume oversight of the Target technology team and operations, with responsibility for the ongoing data security enhancement efforts, as well as the development of Target's long-term information technology and digital roadmap.
DeRodes replaces Beth Jacob, who resigned in March. The company is continuing its active search for a chief information security officer and a chief compliance officer.
"Establishing a clear path forward for Target following the data breach has been my top priority," said Gregg Steinhafel, Target chairman, president and CEO, in a statement. "I believe Target has a tremendous opportunity to take the lessons learned from this incident and enhance our overall approach to data security and information technology. Bob's history of leading transformational change positions him well to lead our continued breach responses, and guide our long-term digital strategy."
DeRodes comes to Target with more than 40 years of experience, most recently as senior information technology advisor for the Center for CIO Leadership, the US Department of Homeland Security, the US Secretary of Defense and the US Department of Justice. In addition, DeRodes has provided independent advisory services to corporations, private equity firms and boards. DeRodes has also held top technology positions at various multinational companies including CitiBank, USAA Federal Savings Bank, First Data, Home Depot and Delta Air Lines. He also serves on the board of directors for NCR Corp.
"I look forward to helping shape information technology and data security at Target in the days and months ahead. It is clear to me that Target is an organization that is committed to doing whatever it takes to do right by their guests," said DeRodes.
Meanwhile, since the initial confirmation of the data breach, Target has been adding various enhancements to its security posture, it said. Those include enhanced monitoring and logging; the implementation of additional rules, alerts, centralizing log feeds and enabling additional logging capabilities; installation of application white-listing point-of-sale systems; the deployment of whitelisting rules to all registers and point-of-sale servers; enhanced segmentation; development of point-of-sale management tools; a review and streamlining of network firewall rules and development of a comprehensive firewall governance process; reviewing and limiting vendor access, including decommissioning vendor access to the server impacted in the breach and disabling select vendor access points including FTP and telnet protocols.
The new approach also includes a coordinated reset of 445,000 Target team member and contractor passwords, broadening the use of two-factor authentication, expansion of password vaults, disabling multiple vendor accounts, reduced privileges for certain accounts, and developing additional training related to password rotation.
Critically, Target also announced a significant new initiative as part of the company's accelerated transition to chip-and-PIN-enabled REDcards. Beginning in early 2015, the entire REDcard portfolio, including all Target-branded credit and debit cards, will be enabled with MasterCard's chip-and-PIN solution. Existing co-branded cards will be reissued as MasterCard co-branded chip-and-PIN cards.
Earlier this year, Target announced an accelerated $100 million plan to move its REDcard portfolio to chip-and-PIN-enabled technology and to install supporting software and next-generation payment devices in stores. The new payment terminals will be in all 1,797 US stores by this September, six months ahead of schedule, the company said. And, by early next year, Target will enable all REDcards with chip-and-PIN technology and begin accepting payments from all chip-enabled cards in its stores.
"Target has long been an advocate for the widespread adoption of chip-and-PIN card technology," said John Mulligan, executive vice president and CFO for Target. "As we aggressively move forward to bring enhanced technology to Target, we believe it is critical that we provide our REDcard guests with the most secure payment product available. This new initiative satisfies that goal."
Following the annoucement that DeRodes would take the helm as Target's CIO, today the company's board annouced another shakeup of the leadership team, including the firm's chief executive. According to a report by Bloomberg, effective immediately, Mulligan will replace Steinhafel as Target's interim CEO, pending the search for a long-term replacement.