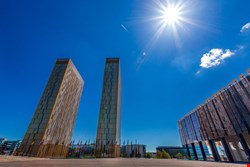 The Data Retention Directive requires the telecommunications companies within member states to store citizens' telecommunications data for between 6 and 24 months. Police and intelligence agencies would have access to the stored metadata on demand, and to content with a court order. But it was almost immediately challenged by Digital Rights Ireland.
"This case started in Ireland's High Court in 2006 and was referred to the ECJ in 2010 by Judge McKechnie to allow the European court to rule on a number of questions relating to the interpretation of European law," explains McGarr Solicitors, Dublin, who acted for Digital Rights Ireland in its challenge to the Data Retention Directive.
Now Villalón's conclusion is that the Directive "is as a whole incompatible with Article 52(1) of the Charter of Fundamental Rights of the European Union, since the limitations on the exercise of fundamental rights which that directive contains because of the obligation to retain data which it imposes are not accompanied by the necessary principles for governing the guarantees needed to regulate access to the data and their use."
In short, the Directive will have to go if the court follows the advocate general's advice. "It will mean," says McGarr Solicitors, "that the European Data Retention Directive will have been struck down for all citizens of the European Union and that local laws are open to challenge in local courts."
In an emailed statement, MEP Jan Philpp Albrecht called it a breakthrough for civil liberties. "It confirms what Greens and many civil liberties advocates constantly said," he wrote. "The retention of personal data on all citizens without any initial suspicion is breaches the fundamental right to data protection and violates the presumption of innocence. Data retention now has to be stopped in all of Europe."
The Advocate General is not suggesting that the Directive be struck down immediately. "So far as concerns the temporal effects of the finding of invalidity," says a statement from the Court of Justice of the European Union, "the Advocate General proposes, after weighing up the various competing interests, that the effects of a finding that the Directive is invalid should be suspended pending adoption by the EU legislature of the measures necessary to remedy the invalidity found to exist, but such measures must be adopted within a reasonable period."
Nevertheless, Albrecht considers it to be the beginning of the inevitable end for the Directive. "I look forward to the Court ruling which will make data retention and mass surveillance history and end this constant violation of our constitutions and EU treaties... Civil liberties are back!"