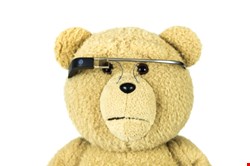 UK privacy watchdog the Information Commissioner's Office (ICO) has reminded organizations looking to use Google Glass and other wearable technology tools that they must do so within the limits of the Data Protection Act.
ICO senior technology officer, Andrew Paterson, used the official UK launch of the Google headgear last week to remind firms of their responsibilities.
"There is an important debate to be had around the privacy implications of wearable technology and it will ultimately be for society to decide how comfortable they are with wearables," he argued in a blog post.
"However like any new technology, wearables must operate in compliance with the law. In the UK, this means making sure that these devices operate in line with the requirements of the UK Data Protection Act.
"
Individuals using wearables like Google Glass for their own use are for the most part unaffected by the law.
However, those who decide to go further, "for example to support a local campaign or to start a business",
would not be exempt, Paterson explained.
Organizations, on the other hand, will almost always be bound by the DPA if they use wearables to process personal info, he said.
"This includes making sure that people are being informed about how their details are being collected and used, only collecting information that is relevant, adequate and not excessive and ensuring that any information that needs to be collected is kept securely and deleted once it is no longer required," Paterson added.
"If the wearable technology is able to capture video or pictures then organizations must address the issues raised in our CCTV Code of Practice."
This code is currently being
updated
but there will be also be directly relevant information on camera-enabled wearables on the Surveillance Camera Commissioner's
website
, Paterson explained.
"The rise of wearable technology brings exciting new possibilities and is set to become widespread in the years ahead," he concluded. "But organizations must not lose sight of the fact that wearables must still operate in compliance with the law and consumers' personal information must be looked after."
Google Glass is by no means the only wearable technology being trialled today, but it is one of the most high profile, and arguably at the most advanced stage of development.
It has also picked up some pretty negative publicity on the way, mainly due to fears that users, sometimes nicknamed "Glassholes", could video others without their knowledge.
Some San Francisco bar owners have already banned the technology because of this.
Privacy commissioners from six countries plus the EU wrote an
open letter
to Google CEO Larry Page last year seeking greater dialogue on the matter.
Last week it also emerged that Google Glass could be
used by criminals
to "shoulder surf" users' PINs from long distances.
Mountain View's response has been to issue the same statement it did last week – which claims that Glass was designed "with privacy in mind".
"The fact that Glass is worn above the eyes and the screen lights up whenever it's activated clearly signals it's in use and makes it a fairly lousy surveillance device," it added.