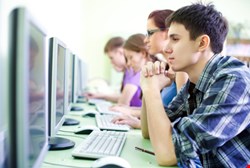 Youngsters across the UK will have a chance to hone their hacking and programming skills from today as the annual week-long Festival of Code event kicks off in locations all over the country.
The Festival of Code was founded by
Young Rewired State
, a five-year-old UK not-for-profit focused on supporting young programmers.
"Although learning happens through peer to peer teaching and mentoring, the purpose of the Festival of Code is not to teach kids to code," according to the organization. "Instead, it is to bring together a community of like-minded people for a fun week, where real world issues are solved by the projects that are built. We are all about fun, collaboration, and open data."
From Monday to Thursday this week, anyone under the age of 18 with an interest in coding is encouraged to register with and visit one of 57 regional centres, located all over the UK, from Aberdeen to Falmouth.
All interested participants need is to "
at least have a very basic understanding of HTML", Young Rewired State said.
On Friday, all participants are then encouraged to meet up at a final weekend event which this year is to be held in Plymouth and hosted by the university's Institute of Digital Art and Technology (i-DAT).
Free accommodation is provided at Plymouth university and there are various talks from industry professionals planned, as well as a coding competition which will run over Saturday and Sunday with the final to be held at Plymouth Pavilions.
Google, American Express, TalkTalk and The Met Office
are sponsoring the competition this year. They will provide some of the regional centres during the week, alongside various universities, schools and other institutions including the BBC.
The idea is to challenge UK kids with a passion for coding to solve real-world problems using their programming skills and freely available open data.
As such, it could be seen as an attempt to nurture these skills and interests for positive ends, rather than allow bedroom enthusiasts to run the risk of crossing the line into illegal online activities.
One such was Gary McKinnon – the notorious computer whizz who in the early 2000s was accused of perpetrating what at the time was described as one of the biggest military hacks of all time, when he infiltrated Pentagon computers.
He subsequently faced a ten year battle to resist extradition to the US authorities which eventually ended successfully in 2012.
McKinnon is now using his skills to offer a "personalised, low entry cost Search Engine Optimisation service" to organizations, according to the freegary.co.uk blog.
He claims all of his clients have thus far reached the first page of Google search results for their primary keywords.