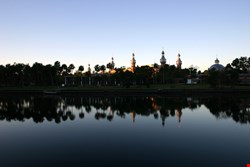 Personal information on 6,800 students from fall semester 2011 was discovered online by students in a university class conducting an online search. That information included names, dates of birth, social security numbers, and university ID numbers of students. The university notified Google to remove the cached file from its search engine, which Google did, the university explained in statement.
The University of Tampa discovered that two more files that were "potentially accessible" but not indexed by Google. These files included names, social security numbers, university ID numbers, and photos of approximately 22,700 faculty, staff, and students.
The IT department determined that the files were accessed by one university student, who along with another student reported the breach. The university said that it believes "there is minimal or no risk to students and employees in these two files."
The university said the data breach was the result of a "server management error." It explained that the files were created to help resolve a problem with university ID cards when a new server was made operational in July last year.
"While there is no evidence of any fraud or other malicious behavior, as an additional precaution UT has decided to pay for each potentially impacted individual to sign up, if they desire, for fraud alert services with a national identity protection service. UT is currently working with a third party service, and they will send letters to those individuals potentially impacted by the data exposure", the school said.