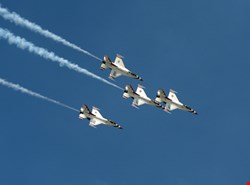 The contracts are to provide cybersecurity research and products, such as software, hardware, technical documentation, and technical reports, as part of the Air Force Research Lab's Agile Cyber Technology program. Winning companies are Assured Information Security, Global InfoTek, Radiance Technologies, CACI, Exelis, and L-3 Services.
According to the contract solicitation, the Agile Cyber Technology program focuses on development of cyber technology capability solutions that address specific user requirements; delivery of prototype technologies for evaluation and feedback in the context of the user's operational environment; and provision of a mechanism for user acquisition of limited product quantities required for operational introduction of technologies.
The technical requirements will include rapid research and development, design, prototyping, demonstration, scenario development, experimentation and evaluation, integration, testing, technical installation, transition, and support through initial operations of cyber technologies.
The cybersecurity research areas include threat avoidance and cyber defense; cyber operations; network exploitation; situational awareness; command and control; modeling, simulation, and war-gaming; cyber infrastructure, and mission assurance.