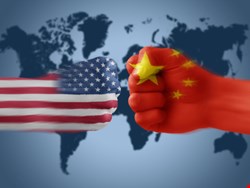 The United States is looking to build bridges with China after their recent falling out over hacking allegations, by restarting a bilateral working group on cybersecurity.
Assistant secretary of state, Daniel Russel, told
AP
that the US is prepared to resume those talks if China is, describing them as "useful and important".
State department officials will apparently raise the matter at the annual US-China Security and Economic Dialogue in Beijing in a fortnight, where secretary of state John Kerry and treasury secretary Jacob Lew will be in attendance.
The cybersecurity working group was agreed by presidents Obama and Xi Jinping after a California summit last year with the aim of building closer ties and trust between the two superpowers.
However, China pulled out in May after Washington took the unprecedented step of
indicting five PLA officers
for alleged hacking of US firms for economic gain.
Attorney general Eric Holder said at the time the action "should serve as a wake-up call to the seriousness of the on-going cyber threat".
However, Beijing was furious and hit back, claiming that it never engages in such activity and that in fact the US represents the number one source of attack traffic aimed at its netizens and organizations.
The Obama administration's moral high ground has been further undermined by revelations from NSA whistleblower Edward Snowden that the US spy agency has been conducting covert cyber espionage operations within and outside its borders for years.
These included allegations that the authorities may have installed backdoors on US-made technology products before export to other countries.
China's response seems to have been to focus greater scrutiny on US tech firms selling into its domestic market.
It has promised to
start screening
anything destined for government departments, and there have been allegations made in
state-sponsored media
that Beijing is trying to scale down its reliance on vendors like IBM.
There have even been stories alleging collusion between firms such as Cisco and the US authorities on cyber espionage.
With this backdrop it's unlikely that a dialogue will be restarted anytime soon between the two superpowers, although it's in both of their interests to do so.
China represents a massive market for US firms, which would suffer a major blow if life were made difficult for them there.
But on the other hand those same firms provide jobs and huge amounts of investment to the Middle Kingdom – a country still not self-sufficient enough to go it alone in many tech areas.