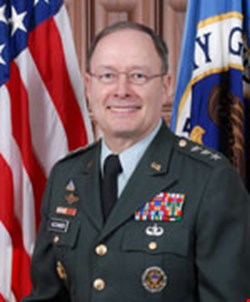 Significantly, USCYBERCOMM will be headed by Keith Alexander, the director of the National Security Agency, confirming rumours first heard in April. This is of strategic importance, given recent recommendations for a broad reorganization of US cybersecurity policy. Reports have called for a reduction in the Department of Homeland Security's cybersecurity role and the reorganization of the cybersecurity effort into a central office. This was advised most recently by Melissa Hathaway's cybersecurity review.
However, the Pentagon's unit is likely to focus more on offensive cyberwarfare, rather than mere defense, and the NSA's heavy role in the unit - which will probably be located at its headquarters - emphasises the Agency's role in US cybersecurity strategy.
A memo from Gates said that USCYBERCOMM would also consolidate two existing military groups - the Joint Task Force-Global Network Operations, and the Joint Functional Component Command-Network Warfare.
The idea of a central cyber warfare unit has been brewing for some time. The US Air Force originally announced plans for its own cyber warfare operation, called AFCYBER, in 2006. However, plans for that unit were downgraded last October, and it became a numbered component unit within the Air Force, with much of the administrative functions transferred to Air Force Space Command.
Operational plans for USCYBERCOMM are due by September 1, and the unit will be functional by next October.