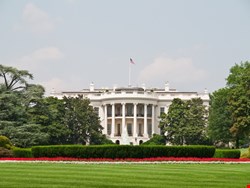 In a Jan. 14 blog, three presidential advisers said the White House could not support anti-piracy legislation that "reduces freedom of expression, increases cybersecurity risk, or undermines the dynamic, innovative global Internet."
The advisers – Victoria Espinel, intellectual property enforcement coordinator with the Office of Management and Budget; Aneesh Chopra, US chief technology officer; and Howard Schmidt, special assistant to the president and cybersecurity coordinator – were responding to two "We the People" petitions on the White House website calling for a veto of anti-privacy legislation, which includes the House's Stop Online Piracy Act (SOPA) and the Senate's Protect IP Act (PIPA).
The president's advisers said they oppose a controversial provision that would require internet service providers to block access to foreign websites that infringe US copyright by using the Domain Name System (DNS), a process known as DNS filtering or blocking.
"Proposed laws must not tamper with the technical architecture of the Internet through manipulation of the Domain Name System (DNS), a foundation of Internet security. Our analysis of the DNS filtering provisions in some proposed legislation suggests that they pose a real risk to cybersecurity and yet leave contraband goods and services accessible online", they wrote.
Sen. Patrick Leahy (D-Vt.), chairman of the Senate Judiciary Committee and sponsor of the PIPA bill, has pledged to take out the DNS filtering provision when the bill reaches the Senate floor, scheduled for Jan. 24.
Rep. Lamar Smith (R-Texas), chairman of the House Judiciary Committee and sponsor of SOPA, agreed to drop the DNS filtering provision from the legislation last week. However, he stressed that other provisions targeting infringing foreign websites would remain.
"The Stop Online Piracy Act cuts off the flow of revenue to these foreign illegal sites and makes it harder for online criminals to market and distribute illegal products to U.S. consumers. The bill maintains provisions that 'follow the money' and cut off the main sources of revenue to foreign illegal sites. It also continues to protect consumers from being directed to foreign illegal websites by search engines. And it provides innovators with a way to bring claims against foreign illegal sites that steal and sell their technology, products and intellectual property", Lamar said in a Jan. 13 statement.