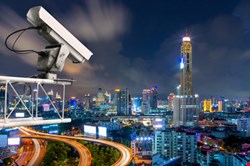 According to Privacy International (PI) the mechanics of state-sponsored surveillance are increasingly being privatised. "Unequivocally," it said, "the newest SpyFiles documents show that this dark industry only continues to grow, in both technical capability and customer base, all while amassing billions in profits from the suffering of individuals. The types of surveillance being marketed by these companies represent some of the most sophisticated technologies available -- whether it's instrusion software, data mining, trojans, location tracking, deep packet inspection, facial recognition, or mass monitoring."
Putting this in context, PI claims that this the global trade of surveillance technology is estimated to be worth up to $5 billion a year. "For comparison," it says, "in 2012 the more 'traditional' global trade in small arms (excluding the sale of ammunition) was worth $4 billion a year."
These documents, announced WikiLeaks yesterday, "include sensitive sales brochures and presentations used to woo state intelligence agencies into buying mass surveillance services and technologies. Spy Files #3 also includes contracts and deployment documents, detailing specifics on how certain systems are installed and operated."
Of particular interest will be the documents on FinFisher. Co-incidentally, F-Secure's Mikko Hypponen published a FinFisher sales presentation earlier this week. (Infosecurity has reached out to F-Secure to ask whether it was purely co-incidental, but has not yet had a response.)
Spy Files #3 now includes a detailed FinFisher price list. "And just like an advertisement you would see on television or in a magazine", comments Privacy International, "spy firms are marketing these tools with flashy graphics, sales-speak, and guarantees on effectiveness. It's quite jarring to see such dangerous technologies being presented in such an unthreatening fashion, given that these products represent one of the biggest threats to human rights in the 21st century."
New FinFisher documents include a training document and a deployment document. The deployment involves installation of the ISP module at an Eastern European country. It states, "The system(s) to be deployed in this project can only INFECT international traffic of ADSL, dial-up and the fixed IP-Address broadband subscribers in [country] Telecom network and Mobile Subscribers using a Notebook / PC as the terminal to access the Internet..."
WikiLeaks adds, "The documents also detail bulk interception methods for voice, SMS, MMS, email, fax and satellite phone communications. The released documents also show intelligence contractors selling the ability to analyse web and mobile interceptions in real-time."
Privacy International notes that while the Snowden revelations showed the extent of government surveillance, Spy Files #3 is providing details of some of the mechanics. It is calling for a public debate "on the role of the companies that develop this technology, and the role the Government plays."