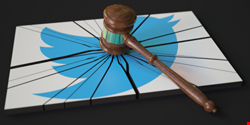 Joseph James O'Connor, a 23-year-old British man, has admitted his involvement in hacking schemes targeting high-profile Twitter accounts, including those of Barack Obama and Elon Musk.
O'Connor was extradited from Spain on April 26 after being arrested nearly two years ago. He pleaded guilty in a New York court earlier this week.
Read more on this case here: US Indicts Brit Over SIM Swap Crypto Theft
In addition to the Twitter breaches, O'Connor's hacking group used SIM card swaps to gain access to various social media accounts, including those belonging to TikTok star Addison Rae and actress Bella Thorne, with the intention of exposing their private information. The group also used this method to steal $794,000 worth of virtual currency from a cryptocurrency company in New York.
Known as "PlugwalkJoe" online, the British man now faces charges of computer intrusion, extortion, stalking, wire fraud and money laundering, which carry a maximum sentence of 20 years in prison.
"Considering the volume of cybercrime that's affecting organizations and individuals, this is just a small step in the right direction," Mike Parkin, senior technical engineer at Vulcan Cyber, told Infosecurity in an email.
According to the security expert, while the conviction may be a slight deterrent to casual criminals in Western countries, it will be minor at best and will do nothing to deter cyber-criminals in countries that aren't friendly to the West.
"While these criminal prosecutions do need to happen, they don't address the root problems that enable these criminal activities," Parkin added. "It's much better to put resources into preventing the incident (better cybersecurity) than into cleaning up after the fact (investigation and prosecution)."
The conviction comes a couple of months after a group of UK law enforcers announced that they successfully broke up a significant money laundering operation, with the final three members of the gang being sentenced in March.
Editorial image credit: max.ku / Shutterstock.com