In today's macro economic climate, organizations are often in a balancing act between adding valuable new technology that will help their company, while still making smart business decisions and prioritizing where to best spend their budgets and resources. Fortunately, investing in areas like the web browser can present a win-win for the business and IT teams and the business users they support.
Businesses are increasingly reliant on web and SaaS apps, and with more employees working remotely and teams being more distributed, IT and security professionals face new challenges. They need to provide a stable and secure browsing platform for employees to use from anywhere, while also protecting the organization from security threats.
Browsers are more important to businesses than ever before, and managing them can bring even more value than many organizations realize. Companies that do not manage their browser may struggle with challenges like:
Lack of visibility into what's happening with their browsers.

Inability to customize policies based on business needs.

Missed opportunities for added security controls that could be protecting their users.
allows IT teams to deploy, update, and configure Chrome browsers on desktops, laptops, and mobile devices from a single console at no-cost. It also provides a variety of security controls, such as added malware and phishing protections, extension management, security reporting and the option to add data loss prevention. Overall, Chrome Browser Cloud Management is a valuable tool for businesses that want to improve the security and productivity of their browser management at no-cost. And it can also bring valuable savings and efficiencies.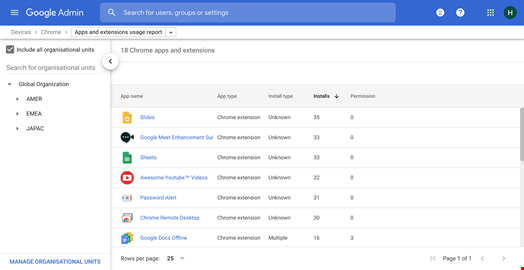 Business Benefits of Managing Chrome
A recent
conducted by Forrester Consulting on behalf of Google interviewed four enterprises using Chrome Browser Cloud Management. Those findings were used to create a composite organization, and the results showed that Chrome Browser Cloud Management can deliver significant benefits to businesses over three years, including:
75% of IT time saved on activities such as responding to tickets, packaging and confirming updates

20% time savings for developers

Avoiding $2.6 million in breaches, compliance fines, and related security team tasks due to improved security

Improved user productivity through 30% fewer service desk tickets
Being available to organizations at no cost, and being easy to test and deploy, the study also found that the composite organization saw full payback for the time and resources spent deploying Chrome Browser Cloud Management within less than six months.
See What Chrome Browser Cloud Management Customers Interviewed For The Study Have To Say
"It's so much easier for the users because they don't have to install add-ons or other clients and so on. Everything is available directly in the browser." - Digital project manager, retail
"We went from two FTEs managing application testing plus 15% to 20% of any project hours dedicated to it, down to less than one FTE and 5% to 10% of project hours. -Senior director of enterprise architecture in the insurance industry
"Our remote workers were often not up to date because they hadn't signed into VPN. Now we can push updates in the cloud, so they get them as soon as they open the browser." -Digital project manager, retail
How To Get Started with Chrome Browser Cloud Management
To learn more about how you can use Chrome Browser Cloud Management in your organization and sign up to get started, visit our
. And if you're wondering if it's the right solution for your business, we have this that recommends management options for your team.
Chrome Browser Cloud Management is an easy-to-use and cost-effective way to improve the management, security, and productivity of enterprise browsers. It can be tested and deployed with minimal training, making it a great option for IT administrators who are looking for a quick and easy way to improve their browser management. To learn more about how your organization can reduce costs with Chrome Browser Cloud Management,
.
1
Image credit: slyellow / Shutterstock.com