The gloves are officially off in Silicon Valley. As web founder Tim Berners-Lee circles the globe calling for a web privacy Magna Carta to rein in the sultans of data, another Tim has taken his gloves off to pound the table. Speaking remotely to the Electronic Privacy Information Center's (EPIC) annual Champions of Freedom Awards dinner, Apple CEO Tim Cook turned a 'thank you' speech into a fiery sermon against Facebook's and Google's privacy invasion policies. Not one to mince words, Cook wasted little time in getting to the point of his message:
"Like many of you, we at Apple reject the idea that our customers should have to make tradeoffs between privacy and security. We can, and we must provide both in equal measure. We believe that people have a fundamental right to privacy. The American people demand it, the constitution demands it, morality demands it."
Talk about being direct. There is no misunderstanding here; no interpretation required. Cook opted to shine a spotlight on online privacy and firmly establish his company on the right side of the argument and two of his biggest competitors on the wrong side.
This is not the first time that Cook has tackled this subject matter. Back in September of 2014, he stated in an online message: "We sell products. We don't build a profile based on your email content or web browsing habits to sell to advertisers . . . We don't monetize the information you store . . . We don't read your email or messages to get information to market to you."
The not-so-subtle dig at Google made headlines. News feeds took the opportunity to sensationalize the story into an Apple versus Google war. What they didn't do was pay enough homage to the underlying message acknowledging online protection as a movement and lucrative emerging market.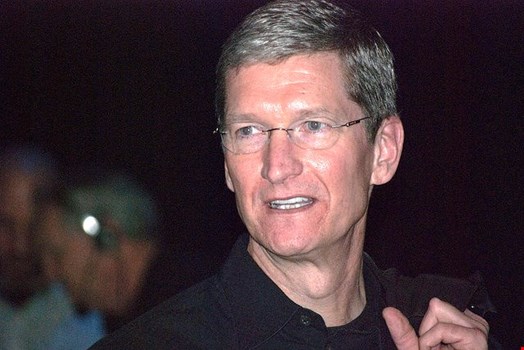 Cook also gave a February 2015 speech at the White House Summit on Cybersecurity and Consumer Protection at Stanford University in which he warned: "If those of us in positions of responsibility fail to do everything in our power to protect the right of privacy, we risk something far more valuable than money – we risk our way of life."
A very wise man this Tim Cook, taking Apple's standard for behavior and turning it into a morality tale. That's not to say he doesn't believe what he says, because I have met him and he does; but rather he's turning his beliefs into positive actions for Apple.
Google Chairman Eric Schmidt gets the point. That's why, back in September, he appeared on Squawk Box to fire back at Cook, asking if Cook even understands how Google works. The answer is yes, he does. In fact we all do. It's not as if Google and Facebook hide their data mining.
If you go back to the origins of Gmail in 2003, you would find US Patent 20040059712 A1, titled 'Serve advertisements using information associated with e-mail'. Google laid out a data-mining scheme whereby it could sift through every conceivable component of your email, including attachments, looking for information about you. Granted Google didn't have the capabilities to do half of these things in 2003. The scary part, though, is that they aspired to one day. That's the smoking gun. The company didn't stumble into the world of data mining. They helped invent it and ever since have tried to monopolize it.
"If those of us in positions of responsibility fail to do everything in our power to protect the right of privacy... we risk our way of life"Tim Cook, 2015 White House Summit
You won't find any such document with Apple, which Cook clearly wants you to know. In fact, as pointed out by Slate.com, if you visit YouTube (ironically enough a Google-owned entity) and watch Walt Mossberg interview Steve Jobs in 2010, you'd hear Jobs say: "We've always had a very different view of privacy than some of our colleagues in the Valley. We take privacy extremely seriously . . . Privacy means people know what they're signing up for in plain English and repeatedly."
It would appear Cook is continuing to follow Jobs' path. He has only become more vocal because there's a business gain here as well as a business loss for his competitors. There's a privacy revolution out there in the world and he is positioning Apple's role within that movement.
America faces a huge mountain to climb because we already have established technology that is widely popular but does not have privacy built into its feature set. That means you either have to completely redo your application or service or build privacy into future releases, proving to a doubting public the power of your new wares.
What Cook has done is attach himself to a movement, define his company's relationship to that movement, and called out other companies for ignoring that movement. The demand for online privacy in America is real and the companies and leaders that get behind that truth will reap all the rewards, morally, economically, and politically.
---
About the Author
Mark Weinstein is one of the USA's leading social media and privacy experts and CEO of MeWe.com. Mark is a founder of social networking, a leading privacy advocate, and author of the award-winning Habitually Great book series. He writes a technology column for The Huffington Post, and has been featured on CNN and Fox News
---