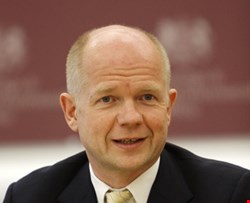 The Right Honourable Lord Hague of Richmond has enjoyed a fascinating 26-year career in politics, holding a plethora of roles since first making the national news in 1977 when, aged just 16, he famously addressed the Conservatives at their 1977 Annual National Conference.
Among his numerous positions in Parliament, Hague has served as Leader of the Conservative Party and Leader of the Opposition from 1997 to 2001, Secretary of State for Foreign and Commonwealth Affairs from 2010 to 2014 and Leader of the House of Commons from 2014 to 2015 before his retirement from electoral politics last year.
Away from the spotlight of his Parliamentary duties, he has acted as vice-president of the Friends of the British Library and Patron of the European Youth Parliament UK. Hague was also elevated to Life Peer in the 2015 Dissolution Honours List and created Baron Hague of Richmond, of Richmond in the County of North Yorkshire.
Hague is a renowned, astute speaker – demonstrated in his absorbing keynote at Infosecurity Europe 2016 this week – so I was delighted to sit down with him at the event to gain his insight on one of the major talking points currently impacting the cybersecurity industry.
With Hague boasting such an extensive background in UK Government, he is surely the ideal person to share his thoughts on the much-discussed topic of national security versus privacy, bought to the fore so publically recently following the terrorist attacks in Brussels and the San Bernardino gunmen stand-off between Apple and the FBI.
Hague himself has written about how the atrocities in Brussels show that there is a need to unpick and access terrorist communications in the name of national security, arguing that strong encryption and the Edward Snowden leaks have acted as contributing factors in global intelligence failures.
Asked why he views government access to criminal communications as such a necessity for keeping not only individuals in the country safe, but also as a means of protecting the UK's reputation as a secure place to do business, Hague told Infosecurity:
"There's a mass of unwelcome activity out there which, if we weren't able to detect it, would mean that people in this country would be more open to fraud, tax issues and terrorist attacks, so this is a matter of extreme importance."
"Unless the State and security agencies can spot that activity through intelligence, which in these days means through electronic intelligence, then restrictions on the liberties of people would have to be much tighter. It's only because the State can home in on the criminal network or terrorist gang that most people can be allowed to just carry on living their lives without any problem."
"It's vital we have the capability to do that and I think people may underestimate how much activity there is of that kind," he added.
However, the subject of State access to encrypted communication often throws up significant uncertainties and fear regarding the effects it can have on impeding the rights and privacy of the individual, something that is particularly poignant in the public sphere and among companies whose customers benefit from strong encryption.
Common concerns are that decrypting secure communications could open the door for hackers to take advantage or even suggestions that States would use the capability maliciously.
These are fears that Hague himself appreciates, stating that such worries are understandable in such a technically-dependent and connect world. Despite this, he suggested there is a disconnect between how the public view the government's right to access information and the actual structured, secure process that goes on behind closed doors – something that needs to be communicated on a broader scale.
"Those of us who have been in government have to recognize there's a deep suspicion of government and intelligence agencies on this subject; it's healthy that there is a suspicion, it's a sign of a free society, but people don't often hear what it's like to actually make these decisions about intercepting communications," Hague argued.
"Government will have to do more and more to communicate the care taken over these things so that people can be confident about their privacy being maintained, unless there's a good reason to think they're doing something that would harm other people."
"Then they have to have a different sort of confidence; they have to have confidence that people who are doing that can be detected, and I think the public want both of those things. We all like the idea of the privacy of our own communication, but we also like the idea that people who want to do us harm can be caught."
People also want to know if the balance between national security and privacy is being struck correctly. It's not appreciated that this goes to the top of government agenda and senior members of government spend a lot of time on that issue, he explained.
"That does need explaining more, because we have a strong system of safeguards in this country and it's getting stronger with the new legislation before parliament, which would be of some reassurance to people."