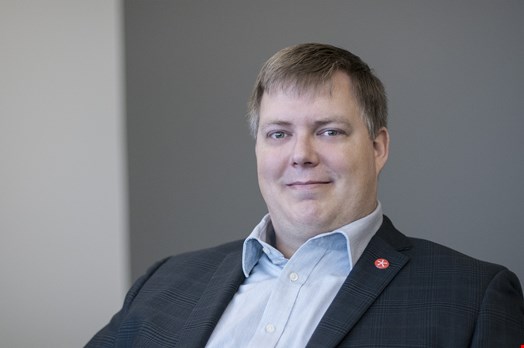 Go back ten years and you'll have found a BlackBerry device in the hands of business leaders and politicians around the world.
Renowned for security and secure communications, the popularity of Apple and Android devices has pushed the BlackBerry down the usage scale, with statistics suggesting that the number of users had dropped below a million in the UK.
This has led BlackBerry to improve its service with added functionality, and last year it completed the acquisition of security vendors WatchDox and Good Technology. Speaking with Jeff Holleran, BlackBerry VP of corporate strategy, he explained that these were part of a strategy that also saw the acquisitions of Secusmart, Movirtu and AtHoc.
"If you look back at the history of BlackBerry, we have put forward a strategy on secure communications for the enterprise and as we look at history of BlackBerry, we are known for securing access to the internal apps behind the firewall," he said.
"The first app was for mobilised email and other web-based apps and custom apps. We grew and added custom messaging. Next we looked at voice and bought a secure voice company and looked at personal privacy. We acquired Movirtu (in September 2014) which is a provider of virtual identity solutions for mobile operators that allows multiple numbers to be active on a single device."
I had previously met WatchDox in late 2014 who offered a technology which adds a digital watermark to a document to enable control of it.
Holleran said that this was intended as a service to offer secure file-sharing. "Data stored in the cloud can be secure while stored in the cloud, but that is lost once it is moved out of the cloud storage solution. WatchDox provides security that travels with data."
As for the acquisition of Good Technology, Holleran said that this was brought in as it found a natural synergy. "BlackBerry had strengths on MDM and connectivity and deployment, and Good Technology on the app platform and container," he said. "It is not just for the smartphone, but expanded to laptops and there are endless possibilities with the container and where it can run." These have now been rebranded as the Good Security EMM Suites to include BES12, Good and WatchDox to address the needs to secure devices, applications, content and work data - at rest and in transit.
Holleran said that he had seen BlackBerry customers invest in MDM solutions, and asked if there continued to be a growth in BYOD deployments, he said that there was a mix and an ever changing environment, and he did not see BYOD or corporate devices going away.
I asked if BYOD was particularly prevalent in highly-secure businesses? He said that many have the ability to support BYOD where it fits in the system to support tightly locked down device. "I find that in a financial services firm, devices are tightly regulated among the traders, but in other area BYOD is acceptable so it really depends on the role of the employee. I see a lot of mix in organisations on entitlement.
"We saw a lot of new devices introduced as new members of staff grow up with technology, but regulations don't go away in industries and they will be challenged to stay ahead of technology and do the right thing. How can you be sure a financial services analyst is saying different things to the market and their friends? The only way to own the device."
Holleran said that there is a lot of thought inside organisations on how to enable BYOD, but it is unsurprisingly not in regulative environments. "We do not see the core of regulation changing," he said.
It is my opinion that BlackBerry will not meet the high usability levels that Apple and Android devices have reached and set, but the company has seen the potential in MDM and data security and with a world still paranoid, about Governments breaking encryption, this company is arming itself well.