Journalist, reporter and author, Kate has been writing about technology and the Internet since 1995. Appearing regularly on BBC technology programme Click she also speaks at conferences and digital strategy and policy meetings, as well as lecturing in schools and universities to inspire the next generation of technologists.
What was your route into tech?
I fell in love with computers in 1984 playing the space trading game, Elite, on the BBC Micro
Tell me in one sentence what your job is about
I tell stories.
What's the best thing about your job?
The constant change and variety keeps my mind buzzing.
What's the worst?
Admin and especially credit control.
What's your proudest achievement?
When young technology professionals (especially women) come up to me at an event and tell me it was watching me on TV as a kid that inspired them to a career in tech. It makes me feel a bit old, but it definitely makes up for the inevitability of aging.
What's your biggest professional regret?
Honestly, I don't have any. I have plenty of personal regrets! I have always had a seemingly gung-ho attitude to my career, leaping from one branch to the next depending on what opportunities catch my eye. It doesn't always advance my career, but is always an interesting/educational journey. I could probably be more famous or wealthier right now if I hadn't done this, but I honestly cannot think of a single regret.
Who do you really admire in the tech industry?
Maggie Philbin (Tomorrow's World presenter) is an amazing woman who inspired so many people of my generation to fall in love with science and tech, and to this day dedicates a huge amount of her time to inspiring the next generation through her not-for-profit organization TeenTech.
I have always had a seemingly gung-ho attitude to my career, leaping from one branch to the next depending on what opportunities catch my eye
If you could create an 'all-star' project team to work with you on a really tough but exciting project, who would you pick and why?
Maggie Philbin for her huge industry knowledge and amazing contacts. My older brother Matt, who is the kind of guy who just gets on and does stuff (like building an extension on his house by googling how to do it). My little brother Jon, who is an amazingly smart guy and a very highly skilled coder. I'd probably end up just making the tea in that team, but I would be confident the job would get done really well.
If you could change one thing about the sector, what would it be?
Diversity (or lack there-of) would instantly cease to be a topic of conversation because people's differences are celebrated.
What's the most misunderstood thing about information security?
I speak at a lot of conferences across all sectors and a frightening number of them are not even thinking about the impact of GDPR on their business.
What one piece of advice would you give to someone starting out in the tech industry in 2017?
Keep your mind open to new opportunities. Many of the jobs in the tech sector didn't exist 10 years ago, so trying to plan your career based on what has happened in the past is a bit like trying to negotiate the road ahead by looking in the rear-view mirror.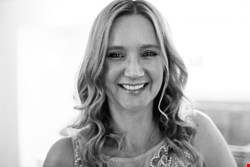 How do you feel about the 'women in tech' conversation?
I think we need to stop labelling women in tech this way as it creates division and makes them seem like something out of the ordinary. However that doesn't mean we should stop having conversations about how to balance the diversity in tech – not just gender, but across all aspects of humanity.
What would be your DREAM job?
When I was at school, I always wanted to work with dolphins and whales in marine conservation. I'm a qualified rescue diver with over 100 dives logged. Sadly I wasn't very good at exams (and was always misbehaving in school) so that dream fizzled out with lack of qualifications.
Tell me something about you that our readers will be surprised by…
I am a partnered twitch streamer and my subscribers actually pay to watch me play games.
Kate Russell is the keynote speaker at Infosecurity Magazine's Women in Cybersecurity networking event at Olympia, London on June 07 2017.