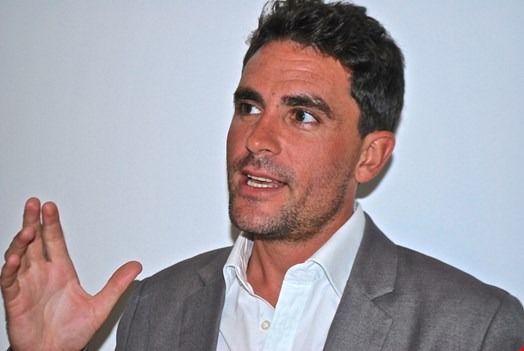 In the first part of my interview with adventurer and author Levison Wood, who had just finished his keynote talk at Infosecurity Europe, I talked with him about his experiences while traveling and dealing with risk and preparing for the worst.
In the time that I met him, I was keen to discuss his role within the British Army where Wood is a serving reservist with the defense engagement unit. I've the pleasure of dealing with a number of people who have traded the armed forces for the digital battlefield, and having seen both sides due to his time at Olympia, I asked Wood about the massive skills shortage (in particular with business leaders), and asked him if the army could help resolve that?
He said: "I think the army offers a great pool of people with useful skills. You've got technical skills with those people who are trained in what would benefit this industry for leadership and management, and have the team work ethic to be in a team or in a position of authority.
"When people leave [the army], I think more could be done to encourage them to use the skills in a different environment, as what we do does not necessarily understand what is out there [in this industry]."
The concept of the military should get you working in a team, so with that experience could it get a person to be relied upon, and work with the perception of what could go wrong and make split second decisions. I asked Levison if that sort of experience can help?
"Yes I work with the security industry on a broader scale as if I go in to do a day job as an explorer or photographer, I go into places I have not been before and I find the information in the region," he said.
"It is people who go into that environment and work for world companies and non-Governmental Organizations (NGOs) and go to do reconnaissance, and a lot of them tend to be ex-military guys and they go in and do an assessment of potential threats and do a risk assessment for financial services so that they can build a bank in that country.
"I do work a lot with those guys, and I think the same principle applies to information security because if you want to expand into a new market, you need to test the experts who have the 'on the ground' experience."
So what about technical skills, do people know how to do things in the military that are needed in cyber defense? Levison agreed, saying that the army is trying its best to be in the 21st century in what it does, and there are specific departments in the government for that, but he said that the army is not about kicking doors down, but about influencing and controlling in a situation.
"Sometimes you just need to speak to someone who is a leader and say 'can I help you build a bridge' for example, so having influence indirectly by assisting stabilization and the skillset that is required," he said.
"It is true you need people who are confident in communication who can build bridges metaphorically as well as physically, and you need good communicators and that goes across the industry as a whole as you need people who can understand and empathize with people of different backgrounds and languages.
"With these skills, the army could do a lot better with recruiting and vice versa – we've got army reserve units and it is not a full time job, but if you want to volunteer on a weekend as a security expert, there is one unit that would love to speak to this industry. There is a lot of cross-fertilization."
Levison said that the army is trying to recruit 30,000 reservists who could give as little as 20 days a year, and it is more about adapting skills of whatever your specialty may be and paying back into the community.
We concluded by me saying that with 20,000+ people attending Infosecurity Europe, it is time for more visibility of this issue and transferable skills?
"I think the army could do more and it does a great job in communicating some lessons to be learned to this industry, and there could be a lot of cross-fertilization and ideas for recruitment both ways, and when people leave the army it is great that there are people who want to recruit people with those skills. Likewise you can only recruit from within the industry, so there is definitely potential there for some synergy."