Jennifer Minella is good at everything. Her bookcase of trophies from ballroom, swing dancing, powerlifting, industry awards and all her technical certifications attest to that. She's technical, she's creative, she's hard-working, she's sporty and she has an unfaltering positive attitude. In fact, she's everything that the 'industry mascot' that she so dislikes is not…
What's your biggest professional regret?
Being blinded by 'blinky lights'. I started my career early (I had a work permit when I was 14 and was working in IT) and by the time I was in my twenties I held several highly technical certifications as well as the CISSP. I spent day and night working, learning all the 'blinky lights', watching packets fly by, and testing and researching every aspect of networking and wireless infrastructures. It took me 20 years to realize that most of our industry's problems aren't with blinky lights, but with human brains.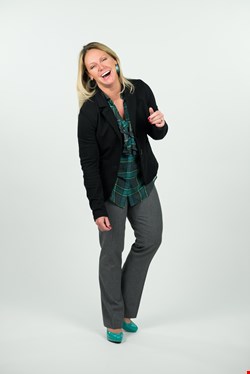 What was your route into cybersecurity?
Some odd combination of nurture and nature. The daughter of two parents in naval intelligence, I'm convinced genetics played some part in it all. Aside from that, I was raised in a household of VAX VMS, Apple IIs, Unix and later Windows. I served on my first state advisory board for technology when I was 16 and attained my CISSP in my twenties. It's fair to blame my creativity, since that was my gateway to graphic design, 3D modeling and web development, which led me indirectly to technical sales, then engineering with a focus on security.
If you could change one thing about the information security sector, what would it be?
Our mascot! I've joked that our industry's mascot is the grumpy, skeptical paranoid guy or the guy in a black hoodie in a basement. We're facing an extreme workforce gap in the information security industry and we need more diversity to expand our pool. We need more people, period! Pigeonholing and stereotyping ourselves with our grumpy, egotistical, martyr attitudes, 80-hour work weeks, and black hoodies is counter-productive. We need a more inclusive and welcoming 'face of information security'.
Pigeonholing and stereotyping ourselves with our grumpy, egotistical, martyr attitudes, 80-hour work weeks, and black hoodies is counter-productiveJennifer Minella
Who do you really admire in the industry?
Dr. Uma Gupta and the late Howard Schmidt.
What advice would you give to someone starting out in infosec in 2018?
Ask questions and request help. Be curious and don't be afraid of what you don't know.
What's your guilty pleasure?
Being alone. Everyone thinks I'm such an extrovert, but the truth is that I'm a highly-functioning social introvert.
What's the best thing about your job?
Constant change, helping people and experimenting with applying a unique blend of technical knowledge and the aspects of neuroscience that drive human behavior.
And what's the worst?
I try (and seemingly always fail) to have a work-life balance.
Tell us about a time you screwed up
I'm not afraid of failure – everything is a learning and growing opportunity. Be smart about the risks you take, but screwing up and being OK with it is part of personal and professional growth.
If you could have invented one piece of technology, what would it be?
An anti-technology cone of electric silence.
---
BIO @jjx
Jennifer Minella is VP of engineering with Carolina Advanced Digital and vice-chair of the (ISC)2 Board of Directors. In addition to her normal roles, Minella is a published author, consultant and internationally-recognized speaker. Aside from meditation and security, she's a competitive powerlifter and dancer.
---