In April of this year it was announced that a new £13.5m cyber center would be developed in East London's Queen Elizabeth Olympic Park, with the aim of helping to secure the UK's position as a global leader in the growing cybersecurity sector.
The London Office for Rapid Cybersecurity Advancement (LORCA), run by innovation center Plexal from its headquarters in Here East, opened its doors for the first time in June. LORCA is supported by partners Deloitte and The Centre for Secure Information Technologies (CSIT) at Queen's University Belfast, with funding from the Department for Digital, Culture, Media and Sport (DCMS) as part of the UK government's five-year £1.9bn cybersecurity investment.
LORCA's primary focus is on supporting 72 later stage startups over the next three years, enabling them to serve the information security marketplace faster and more innovatively, source follow-on investment and scale their proposition. The official opening of the center on June 26 2018 saw the first cohort of 10 businesses welcomed onto the scheme.
Speaking on the day, Matt Hancock, then secretary of state for Digital, Culture, Media and Sport, said that LORCA is going to do vital work to foster the new products that are going to keep people secure online.
"I can tell you this," he said, "having started my career in a tech business and now being the minister responsible in government, I know for sure that if we [government] try to come up with the ideas, we wouldn't come up with a tenth of them compared to you [businesses working with LORCA].
"This center will be home to startups that are on missions in so many different ways," he added, "and mission-led businesses are the ones who are going to solve problems for other people in the future."
"This center will be home to startups that are on missions in so many different ways"
Hosts with the Most
As hosts of the scheme, Plexal will play a central role in maintaining and developing the center's objectives, bringing its specialism in helping high-tech startups in artificial intelligence, augmented reality and the Internet of Things.
Lydia Ragoonanan, director of LORCA, tells Infosecurity that Plexal's opportunity to run LORCA is the result of an incredible collective effort to make the UK the safest place online and grow the impact and number of the nation's most promising cybersecurity companies.
"We are thrilled to have the opportunity to support this goal," she adds. "The team has significant experience in designing and running impactful innovation programs that help companies scale and bring their solutions to new markets. We are particularly skilled in molding and matching emerging innovators who have solutions to large companies' challenges."
The Plexal City at Here East is a 1.2 million sqft digital and creative hub, designed as a 'mini-city' – a hyper-connected campus combining specialized innovation services with state-of-the-art work and event facilities to support digital entrepreneurs.
"The center will be joining Plexal's community of problem solvers including entrepreneurs, big business, academics and investors who are focusing on collaboration and commercialization to help refine and scale innovations of the 4th industrial revolution," continues Ragoonanan.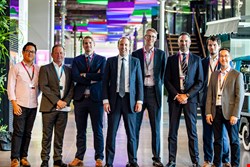 Key Collaborations
An element that is going to be pivotal in LORCA's success is collaboration, and Plexal has two particularly strong partners in CSIT and Deloitte.
CSIT will deliver cutting edge academic research insights and engineering resources, explains Dr Godfrey Gaston, CSIT director and LORCA executive board member.
"Since 2009, CSIT has spun out and supported a number of cybersecurity startups, collaborated with numerous others on research and development projects and has a track record of working with large companies such as Thales, BAE Systems, Allstate, and others on significant contract R&D engagements," he says.
There are 11 startups that have graduated from the CSIT Labs program in just the last couple of years with a further five enrolled in 2018, and CSIT is a cofounding member of the Global Ecosystem of Ecosystems Partnership in Innovation and Cybersecurity, which now represents 21 members in 13 countries across North America, Europe, Asia and Oceania.
"CSIT brings all this cybersecurity innovation expertise, global market insight and connectedness to the initiative," Gaston adds.
With the academic and research approach covered by CSIT, it is the cyber team at Deloitte that will support LORCA innovators and markets through a global client base.
"Also, as one of the world's largest cybersecurity consultancies, Deloitte will bring domain expertise to amplify the impact of LORCA members," providing committed access to smart-connected cyber people, data and facilities, adds Stephen Wray, director of cyber innovation at Deloitte.
Gov Gets Going
There's also the significant involvement that the UK government will have, and whilst the investment of £13.5m is substantial, funding will not be the only government-linked ties LORCA will benefit from.
Robert Hannigan served as director general of GCHQ between 2014 and 2017, and is now the chair of LORCA's industrial advisory board, a role in which he works with a group of international peers to provide strategic perspective on the future needs of the cyber industry and advise how companies coming into the sector can meet them.
"The government's ambition is to make the UK cybersecurity industry dynamic, export-orientated and a place that people want to come to to start new companies," he tells Infosecurity. "They're keen that the various incubators and centers across the country should work together and get critical mass, which is another role of the London center."
"The government's ambition is to make the UK cybersecurity industry dynamic, export-orientated and a place that people want to come to to start new companies"
What a Start!
There's no doubting that LORCA provides a fantastic opportunity for startups, particularly because the six-month programs it offers are uniquely designed to fit the individual needs of the companies taking part.
"Every entrepreneur's journey is different," explains Ragoonanan, "and so we are offering a bespoke program of support to help hasten the speed to new market and provide insight on how to grow successfully.
"Organizations may need support around how best to reach new markets, or to grow their team, to prepare for Series A or for further funding."
One of the first companies joining the scheme is Ioetec, whose mission is connecting users to their IoT devices securely and ensuring they remain safe.
"Our target is giant commercialization, so that Ioetec becomes ubiquitous and immediately associated with safe, secure IoT communication," says CCO John Tolhurst. "LORCA will accelerate the process to achieve those ambitions. LORCA is a high-profile initiative offering Ioetec an almost unique opportunity to open doors that would otherwise be hard to open.
"During these six months, we'll secure those early projects and relationships, win new customers and seed investment to ensure we are able to capitalize on this opportunity and outrun our competition."
For Cybershield, a security startup focused on stopping phishing attacks and alerting employees about deceptive emails, and another of the first LORCA intake, access to a strategic partner such as Deloitte will prove invaluable in understanding and catering to the needs of enterprise customers.
"We are already finding the program is advancing our capabilities," explains Paul Chapman, co-founder of Cybershield, "and we hope to have a number of customers signed up for Cybershield's solution 'Sentry' by the end of the program."
Opportunities for All
It's not just startups that can benefit from involvement with the center though. There are a variety of opportunities for other parties too.
"Large organizations who have cybersecurity challenges are welcome to become partner members," Ragoonanan explains, "and there are a number of partnership options available that will enable organizations to have direct contact with innovators who have possible solutions, attend networking events and have a presence at our annual event.
"Finally, we have a Finance Forum that is convening the investment community. This Forum will have direct access to some of the UK's rising cyber stars."
In its first three years, LORCA aims to bring in £40m worth of investment for the supported innovators and create up to 2000 jobs, highlighting just how much of an impact it hopes to have on the security industry, both in practical terms and in fostering a generation that aspires to create the next best startup or product in the UK.